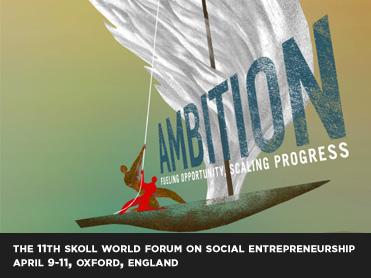 A Special Series for the 2014 Skoll World Forum on Social Entrepreneurship
Each year at the Skoll World Forum, nearly 1,000 of the world's most influential social entrepreneurs, key thought leaders and strategic partners gather at the University of Oxford's Saïd Business School to exchange ideas, solutions and information. We asked a number of speakers to discuss the critical issues, challenges and opportunities underpinning their sessions in advance of the Forum to ground a richer debate both online and in Oxford.

Learn more about the 2014 Skoll World Forum, sign up to our newsletter to be notified of the live stream, view the 2014 delegate roster and discover what themes and ideas we'll be covering this year at the event. Also, read about the seven recipients of this year's Skoll Award for Social Entrepreneurship.
A Special Series for the 2014 Skoll World Forum on Social Entrepreneurship

Can Social Enterprises Really Solve Poverty?

Preparing for a World With 9 Billion, Designers Are Rising to the Challenge

Modern Day Slavery in the Global Economy, and How To Solve It
(1 comment)

Why I Believe Social Enterprise can Provide a Model for True Sustainable Development

Why Reinventing the Toilet is a Women's and Girls' Issue
(3 comments)

How Social Entrepreneurs Can Turn Small Ideas Into Big Impact
Sustainable Development Needs The Private Sector

The Purpose of Healthcare

Data and the Human Touch

Well-Crafted Entertainment Can Change the World

Building the Impact Investing Market in Sub-Saharan Africa and South Asia

Learn More About the 2014 Skoll World Forum

Investigative Journalism and the New Transparency

Profit-With-Purpose and the G8

Education is a Savior
(1 comment)

Reimagining the 'Overhead' Debate
(2 comments)

How China Lifted 500 Million People Out of Extreme Poverty
(1 comment)

To Fuel Student Curiosity, Teachers' Roles Must Evolve
(3 comments)

The Triple Bottom Line, A Necessary Economic Redesign

Why Energy is Inextricably Linked to Environment

Even oil companies don't want a 'roasted world'
(1010 comments)

A Vision for Cross-Sector Peacebuilding in Israel and Palestine

Top 10 Compelling Quotes in Advance of the 2014 Skoll World Forum

What if Businesses Were Profitable and Socially Responsible?
Hitting The Impact Jackpot
(1 comment)

Inside Root Capital's Women in Agriculture Initiative

Smallholder Impact and Risk Metrics: A Labyrinth of Opportunity

Connecting Poverty and Health
Recent Debates & Series