FORUM2015: What's So Funny? Comedy and Social Change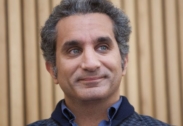 FORUM2015: What's So Funny? Comedy and Social Change
April 29, 2015 | 4607 views
WHAT'S SO FUNNY? THE ROLE OF COMEDY IN SOCIAL CHANGE
FRI, APRIL 17, 2015; 11:45 – 13:00
Among the many entertaining episodes at this year's Forum was a panel on the role of comedy in social change. For all the presenters, humor makes their messages more palatable, but how it works is slightly different in each case.
Breaking taboos
Talking or hearing about bodily functions in public is awkward, and Mechai Viravaidya (Mechai Viravaidya Foundation) and Jack Sim (World Toilet Foundation) diffuse the embarrassment with jokes.
Sim makes nonstop wisecracks about using toilets; his humble potty humor is entertaining and easy to listen to, drawing audiences into discussions about sanitation and hygiene before they know it.
Similarly, in distributing condoms and birth-control pills, and in encouraging men to get vasectomies, Viravaidya makes birth control silly but ultimately inevitable. For example, through school programs that have teachers and students competing to blow up or carry water-filled condoms, or by giving out condoms through a "Cops and Rubbers" program, the condoms become familiar, and the taboo is removed.
Creating receptiveness
Recommended: What's So Funny? The Role of Comedy in Social Change
As Caty Borum Chattoo (Participant Media) demonstrated with comprehensive research, humor can open the door to sympathy. In creating earnest public-health programs with the Gates Foundation, Borum Chattoo realized that these were likely only reaching those already convinced; they were "not wrong, but very much the same."
With another Gates Foundation grant to explore a new kind of storytelling, Borum Chattoo and team realized "if we followed the jokes into the social issues, maybe we were onto something new." They created the series Stand Up Planet, sending comedian Hasan Minhaj to India and South Africa to find stand-up comedians addressing these issues. They then studied the show's effect on viewers.
The results? While viewers didn't necessarily learn a great deal about tackling the issues, they became more empathetic to those affected, and rated themselves more likely to take action in the future.
Exposing cracks in the monolith
Bassem Youssef created a successful show in Egypt, Al-Bernameg, which poked fun at the Morsi regime through its satirical content. Though satire's function is to critique, in some cultures and countries, social and political critique is dangerous, even illegal, and Youssef himself shut down the show after three seasons, out of concern for his family and colleagues.
But perhaps more important for broad social change than its content is Al-Bernameg's ability to inspire. Youssef showed Egyptians that without insulting religion, it's possible to criticize the ways in which leaders abuse religious and political authority. It may not be the standard approach, he said, but he's proud to have demonstrated "that satire is not afraid of power, but power is afraid of satire."