FORUM2015: Food: Our Best Health Solution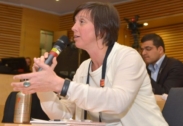 FORUM2015: Food: Our Best Health Solution
April 29, 2015 | 4568 views
FOOD, FARMING AND THE FUTURE: HOW CAN WE FEED A GROWING GLOBAL POPULATION RESPONSIBLY?
FRI, APRIL 17, 2015; 13:15 – 14:30
A panel at this year's Forum on scaling agriculture responsibly began with a provocative statement by moderator Debra Dunn (Stanford University's d.school): In the future, how we produce and distribute food will be the biggest driver of people's health.
Whether all delegates agreed, there was no question that improving food production is necessary. What ideas are not working?
Programs such as the Fair Trade and Forest Stewardship Council (FSC) certifications have created a $100BN market for better products, says Jason Clay of the World Wildlife Fund US, but they ultimately reward top producers when it's the worst quartile of producers that should be the focus in increasing production.
"If you ask people to comply, you get compliance. If you ask them to solve a problem, you get innovation," said Clay. Illustrating this, Jocelyn Wyatt of IDEO.org described an effort in Kenya to introduce banana flour as a food staple; it was nutritious and plentiful, but women didn't know how to cook with it, so it went unused.
Fragmentation and competition in NGOs
NGOs working to support smallholder farmers need to coordinate to improve effectiveness. These organizations, says Clay, still tend to focus on imposing competing technologies on farmers rather than strengthening institutions that will support farmers in the long haul. "We need NGOs to stop doing and start influencing. We don't need parallel institutions and…redundancy."
Kathleen McLaughlin of the Walmart Foundation put current levels of food waste upstream and downstream of retail at 32 percent, and this waste is estimated to produce over 10 percent of greenhouse gases each year.
Recommended: Food, Farming and the Future: How Can We Feed a Growing Global Population Responsibly?
These are formidable challenges, but were matched in the discussion with a healthy list of what is working.
Climate change as an opportunity to stabilize value chains
"Never let a crisis go to waste," said Willy Foote of Root Capital, comparing tactics coffee-producing countries have taken to tackling issues created by coffee rust. While crises are best avoided, they can galvanize people who normally don't work in a coordinated fashion to take action quickly and effectively.
Introducing innovation through stable farmers
Wyatt highlighted findings that working with stable farmers first actually benefited the more vulnerable, less stable farmers, by road testing innovations and creating local mentors before introducing a new technology.
Better data, more efficiently and accurately collected
Metrics help draw money to problems, and also motivate the right behavior across the board. Wyatt highlighted an example of farmers taking better care of pollinators once it was demonstrated that doing so improved yield.
Aggregating smallholder farm production
Smallholder farms easily experience instability due to lack of insights on what to produce and when and where to sell, lacking credit, and faced with poor infrastructure. Plugging smallholders into aggregator networks allows goods to flow through stronger market linkages and creates a conduit through which investment flows back to growers.
How can people be fed with less destruction and disenfranchisement? There's no magic solution, but sharing failures and successes bolsters the hope that we can find a way.