FORUM2015: The Future of Just, Equal, Inclusive Societies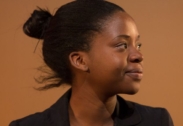 FORUM2015: The Future of Just, Equal, Inclusive Societies
April 28, 2015 | 4204 views
UNLEASHING GIRLS' POWER
FRI, APRIL 17, 2015; 10:00 – 11:15
The Millennium Development Goals focused on young girls and on women. Despite significant progress, Graça Machel says we seem to have "forgotten that before you become a woman, you are a girl."
She explained: "There is a gap in the middle here. The way we adopt agendas is wrong. We must look at the human throughout the stages."
This guided the conversation on Unleashing Girls' Power and the importance of continuing to support girls throughout their adolescence.
Memory Banda, age 19, spoke about how she came to stand up for girls' empowerment in Malawi.
"I grew up in an environment where we had a lot of traditions. By the end of the day, they were harming girls and stopping us from going to school." When her younger sister got pregnant at 11, it was a wake-up call for Memory. She began advocating for girls' education and campaigning with Stop Child Marriage.
"It's high time we look at child marriage as a crisis, as something that needs to be prioritized." This February, she advocated for a law to raise the minimum age of marriage to 18 – standing outside of parliament every day and sending SMS messages to legislators asking for support.
The bill passed – one step towards ending the tradition of child marriage in Malawi!  "When we passed the bill, it was very beautiful."
Recommended: Unleashing Girls' Power
Graça Machel elaborated. "Traditions are manmade. Traditions can change and traditions must change."
It's essential to work together with families, community and religious leaders, and schools to change harmful traditions around treatment of adolescent girls. "We need a combined action with support and care, but must allow girls to make choices."
Education expert Rebecca Winthrop talked about how girls' education is the most high-return investment in the developing world. Every year of quality schooling yields a 10 to 20 percent increase in earnings for women. We've made huge progress in girls' primary education, but need to focus our efforts in countries where there are issues with enrollment, child marriage, and attacks on girls in schools.
Lucy Lake of Camfed explained that it's essential to engage with the contexts and dynamics that render girls vulnerable: power, money, and sex. Addressing all three is fundamental to the ability to scale action for girls' education.
Mrs. Machel spoke beautifully about how investing in girls' education is like planting a tree. "You begin by preparing the soil, you fertilize, and then you continue to water, to prune, to care for the tree. This tree will not give you fruits immediately, but you will get your fruits after time. We are planting and building new generations of women who are not going to be like us, talking about the kinds of limitations and constraints we have drawn in.
"There's no meaningful social change without pruning and supporting these children. They are the future of just, equal, inclusive societies. If we are serious about that as the future we are building, they are the investment."