FORUM2015: Storytelling: The Engine of History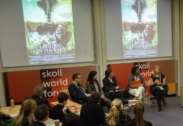 FORUM2015: Storytelling: The Engine of History
April 28, 2015 | 3863 views
THE STORY OF CHANGE: REVOLUTION BEGINS IN THE IMAGINATION
THU, APRIL 16, 2015; 10:00 – 11:15
"Fuelled by cocktails, bloody-mindedness, and wanting to move people and act to make change" was what unified the panelists and moderator in this session. Each panelist talked about the story they were currently telling and the impact it has had or the impact they hope it will have.
The power of storytelling for social change has been discussed at the Skoll World Forum for many years. Film, art, and narratives can bring about change by bringing voices otherwise overshadowed or forgotten to public awareness.
Charmian Gooch, Co-founder of Global Witness, discussed the film Virunga. The film has brought a voice to a forgotten part of Congo that is home to the last mountain gorillas. A dedicated group of park rangers risk their lives to protect this site of great cultural diversity against militia groups, poachers, and corporations that are trying to take control of the nation's rich natural resources.
The story is a powerful combination of investigative journalism and nature documentary. The film has spurred over 600 news stories about the plight of Africa's first national park, and these along with a strategic rollout plan from Global Witness and the filmmakers has brought the film to the attention of key political figures.
Recommended: The Story of Change: Revolution Begins in the Imagination
Dawn Porter of Trilogy Films is trying to bring a very different issue to the attention of the world. Unlike the session's other presenters, her films are not based in developing countries, but rather in the United States, where there is an ever-increasing gap between haves and have-nots.
Alongside this widening poverty gap is a climate of extremist religion, which is having further detrimental effects on the lives of the poorest people. In her latest film, Trapped, she brings to the world's awareness how women's rights in America are increasingly determined by where they live.
She specifically focuses on the growing amounts of legislation that are further restricting planned parenthood clinics in the southern and middle states. In some areas around 60 percent of the patients at these clinics are living below the poverty line and have no medical insurance.
Woman are turning to desperate measures as states are closing down all the free women's health facilities. There is now only one abortion clinic in Mississippi and a further five states will soon be in the same situation.
What all the panelists made really clear is that storytellers have a duty to bring the real voices of the unheard to the world's attention and to do it in a way that doesn't further the agenda of those with power. Rather, storytelling should bring a voice to those otherwise muted. Storytellers "are the engines of history," said Pamela Yates of Skylight.