FORUM2015: Social Impact 2030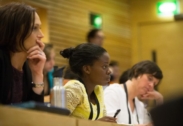 FORUM2015: Social Impact 2030 
April 28, 2015 | 3655 views
GLOBAL DEVELOPMENT: WHAT SHOULD WE FOCUS ON AND HOW WILL WE MEASURE SUCCESS?
THU, APRIL 16, 2015; 13:15 – 14:30
The goal of achieving social impact continues to attract increasing interest from entrepreneurs, development partners, funders, and governments. Problems related to poverty, education, gender equality, health, environment, and international cooperation are seeing novel solutions that combine the best practices of business, investment, and philanthropy. While the seedlings have already started turning into healthy trees, where will the social impact space  be in 2030?
Entrepreneurs are the most critical part of this ecosystem. Without the creative problem-solving, tireless efforts, and most importantly, brave hearts and strong minds to chase unrealized opportunities, there will be no progress over the next 15 years. Their presence will drive more contributors into the space , together addressing the opportunities to improve the world.
As we look forward to 2030, the new Sustainable Development Goals (SDGs) are the targets that will ostensibly unite the G8 countries, the World Bank, the International Monetary Fund, social entrepreneurs, development groups, and impact investors.
How much progress are we making? A yearlong international research project was discussed today  at the Skoll World Forum in Oxford – below are a few takeaways:
Current Situation
By 2030 the world's population will approach 8.5 billion people, 16 percent more than today's 7.3 billion people. Asia's population will increase to six billion; India and China will total three billion.
Climate change, together with population growth, will require at least a 25 percent increase in food production and water supply.
Future Goals
Increased global cooperation and personal integrity – everyone can contribute
Invest into enormous financial opportunities – basic products & services for huge underserved populations in emerging and developing geographies
Bridge inequality gaps, specifically gender, income, and education
Raise the value attributed to professions that serve the public good, including teachers, social workers
We need to continue thinking through what will be needed and how it will be provided. What else should we be thinking about, that doesn't fit into one of the mentioned future goals ?