FORUM2015: Scaling Social Entrepreneurship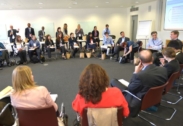 FORUM2015: Scaling Social Entrepreneurship
April 28, 2015 | 3472 views
AN ECOSYSTEMS APPROACH TO SCALING SOCIAL ENTREPRENEURS
WED, APRIL 15, 2015; 11:45 – 13:00
Chris Jurgens, Director of Global Partnerships at USAID, led a lively dialogue. Delegates from nonprofits, major funders, convening organizations, and more discussed the challenges and opportunities of major collaborations to achieve scale. They found:
This is an area where we must do better.
While ecosystems-level scaling is a new approach to social entrepreneurship, many lessons can be gleaned from industry sectors.
Coalitions are key, but must acknowledge the tension between competition and collaboration.
It is exciting to see how many innovative organizations are working in each issue area – but with all those players, many fear competition for funding resources.  How can we create an environment where organizations can take advantage of the healthy benefits of competition, but work together towards change?
In creating coalitions, it's important to have a leader whose interest is making this facilitation happen.
In ecosystems conversations, each player must think critically about what they can bring to the table.  Facilitators are essential to guide that process – they connect the dots, help players define roles, and make the issues relevant to big funders.
Money!
Ecosystems-level collaborations are essential to transforming systems, but without a clearly defined and measurable impact, many funders shy away. There must be a shift that helps funders understand that finances and resources are required to continue past these conversations to achieve large-scale change.