FORUM2015: Increase Happiness with the Impact Jackpot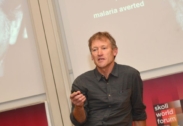 FORUM2015: Increase Happiness with the Impact Jackpot
April 28, 2015 | 3623 views
FIGHTING POVERTY, DESIGNING FOR HAPPINESS
WED, APRIL 15, 2015; 13:30 – 14:45
"If we are not creating happiness, why are we bothering with this stuff?"
Kevin Starr, Director of Mulago Foundation, emphasized the importance of happiness in the fight against poverty. This might not be part of the day-to-day concerns of a social entrepreneur. But after hearing his wise words, I strongly advise that it should be.
Costa Rica came out on top as the happiest place on earth, with 86 percent of people reporting that they lived happy lives. Why? It was not just about the surf, but rather due to long life expectancies, peace, low corruption, steady growth, and a "pura vida" culture.
Togo was rated the least happy place on earth, with only 26 percent of the population feeling they had a happy life. The reason for its population's dissatisfaction with life came from the hereditary dictatorship the country has endured for the last 50 years, terrible infrastructure, high corruption, government-controlled industry, and a "complaining" culture. The Togolese feel even worse off in the shadow of their rapidly-progressing neighbor, Ghana.
Sadly, Togo is not the only unhappy nation. Looking at nations where happiness is at its lowest, we see four common characteristics: anxiety, loss, lack of social mobility and aspiration, and feeling relatively worse off than a neighboring country.
Recommended: Fighting Poverty, Designing for Happiness
Equally, looking at the happiest nations, Starr suggested four common characteristics that bring about happiness. In happy countries, people feel that all their basic needs are met, they have prospects throughout life to aspire and work toward, there are lots of zero-sum activities (reciprocation), and everyone has the ability to participate.
Interestingly, money was not one of the most important factors for happiness. Starr instead characterized it as a "basic need" in our "cash world". This argument of moving beyond a rubric of using only GDP to measure a country's success aligns with the Social Progress Index (SPI).
The SPI aggregates social and environmental indicators that capture three dimensions of social progress: basic human needs, foundations of wellbeing, and opportunity. The index focuses on outcomes, rather than inputs.
As GDP increases, happiness does not necessarily follow suit. There is a level of GDP where a nation is relatively well off on average, and at which happiness increases due to many other factors besides wealth. Thus, as Starr showed using graphs of GDP plotted against happiness levels, we can make a huge impact on a country's overall happiness by working with the poorest individuals in that society, significantly increasing the nation's overall lifetime happiness.
Starr called this sort of country-wide and long-lasting impact "the impact jackpot."