FORUM2015: Five Ways to Bring About Impactful Change at the City Level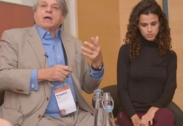 FORUM2015: Five Ways to Bring About Impactful Change at the City Level
April 28, 2015 | 3591 views
CITIES: ENGINES OF TRANSFORMATIONAL CHANGE
FRI, APRIL 17, 2015; 10:00 – 11:15
Innovation happens at the intersection of ideas and cities – this was one of Benjamin Barber's opening comments. Barber observed that, compared to states, cities are better able to foster citizen participation and encourage meaningful local change.
This type of local change can have far-reaching impacts, well beyond the city where it was first implemented. The session brought forward many innovative and useable tips on how to bring about city-level change, applicable in all contexts.
Speak the language of city planners: money
Rodrigo Guerrero, the mayor of the Cali, Colombia, told us the key to getting funding is to learn to talk in economic terms and show the economic return on investment. Planners and governments think in money.
For example, no one cared about Cali's high rate of homicides and other violent crimes. But when Mayor Guerrero proved that the violence was wasting an amount of money equivalent to 15 percent of GDP, $80 million in funding was found that has helped over 800,000 of the city's poorest individuals and cut rates of violence by over 35 percent.
Think in terms of data
Publically available and honest data is important and helpful to bring about change, and also to prove that change has happened. Data showing change will keep people inspired to stay involved. "We have to understand where we are and where we want to get to," said panel member Sue Riddlestone of Bioregional.
Give real and practical examples
All the panel members spoke of the importance of giving people real examples to show that change was possible. Hypotheticals or good ideas don't resonate. You must show citizens how people just like themselves have brought about real change in their cities.
Recommended: Cities: Engines of Transformational Change
Benjamin Barber gave the example of "participatory budgeting". This is where a small amount of the city's budget is controlled by citizens, who decide how it should be spent. This kind of budgeting exercise is now happening in 600 cities.
In another real-world example, Sue Riddlestone talked about the success of Bioregional's community framework called "One Planet Living," which was used by the mayor of London as the basis for all the London Olympics planning and building, and is now proving effective throughout the whole of Wales.
Communities of action
In Rio de Janeiro, Brazil, 1 in 13 of all 20- to 29-year-olds now participate in Meu Rio. Meu Rio is a platform to help organize and bring people together, virtually and in real life, with shared goals to help them bring about the changes they want to see.
Alessandra Orofino, co-founder of the platform, warned of waiting for top-down change and the problems of corrupt leadership. She spoke of the change that groups of like-minded people can bring about if they are just given the organizing tools for citizen lobbying and bottom-up political pressure.
Inspire from inside
A lot of the discussions were framed around bottom-up change and the problems of top-down approaches. Problems such as corruption among municipal leaders are very serious issues in a lot of places. However, Mayor Guerrero reminded us of the power of internal influence. Not all people in positions of power are corrupt and believing you can bring about change and talking to likeminded people in government bodies can bring results.
As Benjamin Barber reminded us, cities can keep people involved more easily than states. With over 80 percent of the developing world and 54 percent of the whole world's population now living in cities, we must "give cities a chance" in showing us how to bring about impactful change for the benefit of all.\