FORUM2015: A Challenge to Do Something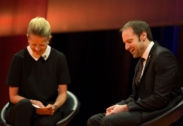 FORUM2015: A Challenge to Do Something
April 28, 2015 | 3376 views
OPENING PLENARY
WED, APRIL 15, 2015; 17:00 – 18:30
I just spent three days at the Skoll World Forum in Oxford at what I thought would be a business-as-usual conference where wealthy elite pat each other on the back and say "good job". I was pleasantly surprised.
Jacqueline Novogratz, founder of Acumen, invited us to explore "belief", followed by an intimate conversation between Mabel van Oranje of Girls Not Brides and Jeff Skoll, founder and chairman of the Skoll Foundation, that focused on passion, love for life, what he wants for the daughter that he is yet to have, and delivering good on the ground.
And that was just the start. Every session I attended was led by game-changing, driven, inspiring female leaders that have created change in their communities on their own terms.
There was no finger-pointing at colonialism, racism, inequality or the one percent. Instead the conversation was about personal responsibility and championing every individual's ability to act; to make something good happen for someone else, including themselves.
This might be because the Forum focuses on attracting social entrepreneurs, who by nature are can-do people; but I couldn't help wonder what we could all do to help ourselves and others? How do we advance toward equality through leadership, entrepreneurship, and, frankly, taking what is damn-well ours to have.
I couldn't help thinking that my seat at the table was exactly that. Mine. And when I sit down I'll pull out a chair for a fellow woman who chooses to take her place too.
Recommended: Opening Plenary
The education of girls was a major topic, as it should be. According to the statistics there are "31 million girls of primary school age out of school. Of these 17 million are expected never to enter school."
Without basic life skills such as literacy and numeracy, it is an uphill battle to ever be economically independent, politically active and have a voice in society. In the UK our young people get an education, but there is still so much we can do to support girls to understand they are more than sexual objects, that they are leaders, that all industries are open to them, not just careers where you need to be able to "communicate".
A video that summed up a lot of my thinking, narrated by Safeena Husain of Educate Girls in India, talks about the "promise of girls". While we don't have to check that our sisters, daughters and nieces are safe every 20 minutes, we do have a job to do in terms or showing those around us that life is there for the taking and supporting them on their own journey as they go through the education system and start their careers.
If we go one step further, if we support our friends to go for that promotion, or start their own business then we are doing everything we can to support our own growth and close the equality gap.
We all have promise, we all have a right to sit at the table, on the table or wherever we so please. As I learned this week, we are the ones we've been waiting for, so let's do what we can for ourselves and others.
I challenge you all to do something. If you're not sure what to do, here are three things you can try today:
Mentor a young woman or a group of girls at your local school.
Run an open day at your workplace for girls to see what the world of work looks like.
Host a dinner for your girlfriends and ask everyone to pledge one thing they will do to make their lives or the lives or another person better this year.
Small actions still have impact. Let me know how you get on. Share your thoughts with me @NatDCampbell.