FORUM2015: Can Old and New Technologies Come Together to Move Education Forward?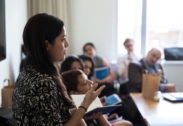 FORUM2015: Can Old and New Technologies Come Together to Move Education Forward?
April 24, 2015 | 3506 views
LEVERAGING NEW AND OLD TECHNOLOGIES INTO TODAY'S EDUCATION MODELS
WED, APRIL 15, 2015; 11:45 – 13:00
My first session at the 2015 Skoll World Forum was a delegate-led lunch discussion, "Leveraging New and Old Technologies into Today's Education Models." The session was packed – you couldn't have fit another body in that room, a testament to the interest in the discussion that was about to unfold.
World Literacy Foundation's Director of Innovation, Alexandra Berrio, started us off with introductions all around. It was worth it to hear the variety of sectors and geographies represented: from China to South Africa; literacy to coding; start-up efforts to Accenture. And I was fortunate enough to be sitting next to Judy and Mort Skoll – yes, Jeff's parents at their first session at their first Forum.
Covering such a broad and contextual topic like tech for ed, even in a room full of engaged and experienced participants, meant that it was hard to delve into any one application or area with the depth it deserved. Despite this, lively conversations moved quickly between teaching tech (coding, for example) to tech for vocational education. A deeper discussion about applying technology tools for use by students and teachers in the classroom could be an extension of the conversation; it is from this that I think long-term change in student outcomes will arise.
One comment that struck me particularly came from Search for Common Ground's President, Shamil Idriss. He mentioned that technology has given donors the impression that deep impact can be gained at extremely low cost per recipient. The room seemed to be nodding with him that this was not realistic.
I feel that, while technologies can bring significant efficiencies, in many cases they cannot replace human-to-human interaction. No educator is going to change 10 years of teaching practice simply because they got a feature phone and received a text about twenty-first century teaching skills. For Discovery Learning Alliance, finding funding partners who see the long-term value of both teacher professional development and innovative technology is key.
Discovery Learning Alliance was started by Discovery Communications to transform education in marginalized communities. Interestingly, video, which is probably the most widely used technology in education globally, was never mentioned in our discussion. Innovation comes in all forms, and while not the newest, sexiest form of technology, video is making an incredible impact in the classrooms and communities in which we work.
Education is a vast subject and central to personal and community development. It touches so many pieces of social and economic development: literacy, health, girls' and women's empowerment, peacebuilding, etc. The role of the teacher and the question of sustainability in technology for education are vital areas that still require significant attention from the development community.
Given Jeff Skoll's comments later in the day about girls' education being a silver bullet for the developing world, perhaps a whole conference on social entrepreneurism in education could be held.
One question that seemed to lie just under the surface on this session was "should we teach coding alongside literacy and math?" Perhaps another question we could ask is "how can technology, training and content be used to create sustainable change in education over the long-term?" Given the work of the many individuals and organizations present at this Forum, I have every confidence that we will find solutions to this global issue.