FORUM2015: WITNESS Toolkit Protects Activists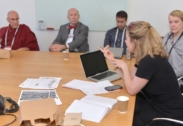 FORUM2015: WITNESS Toolkit Protects Activists
April 19, 2015 | 3909 views
CITIZEN WITNESSING: CHALLENGES AND OPPORTUNITIES
FRI, APRIL 17, 2015; 11:45 – 13:00
In this session, Yvette Alberdingk Thijm (Executive Director, WITNESS) drew upon her unique experience helping people around the world use video to expose injustices and create social change. Her organization, founded in response to the Rodney King police brutality case, believes that images have incredible power to impact the minds of citizens and policy makers.
WITNESS has developed a unique set of tools to protect activists from perpetrators, while helping them develop videos that can hold up in court and contribute to social justice.
With the proliferation of smartphones and mobile devices, exposing human rights violations has changed dramatically. In order to make the world more transparent and to correct injustices like police brutality, intentional or unintentional activists need help to produce videos that are professional enough to pass as evidence in court, while navigating the complex privacy, legal, and safety issues that accompany this often-risky endeavor.
The participants, comprised of an informed group of investigative journalists and human rights organization leaders, discussed some of the issues associated with this technological progress: perpetrators can use facial recognition software to identify witnesses and make arrests, and defendants can de-sensitize jury members to these crimes through constant viewing of videos, to name two.
Participants came away impressed by WITNESS' toolkit, and armed with new methods of exposing injustice around the world.