FORUM2015: Three Partnerships Using Technology to Scale Social Impact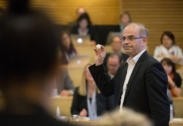 FORUM2015: Three Partnerships Using Technology to Scale Social Impact
April 19, 2015 | 4303 views
TECH PARTNERSHIPS: ESSENTIAL IMPACT ACCELERATORS
FRI, APRIL 17, 2015; 13:15 – 14:30
A Technology-Based Approach to Scaling Impact
Can technology companies play a significant role in advancing the work of social entrepreneurs? Moderated by Noah Manduke (President, Durable Good), this panel provided insights into successful technology partnerships and methods to cultivate these relationships.
Developing tech partnerships outside a limited set of socially-conscious tech companies (Google, Facebook, etc.) continues to be a challenge as most tech people don't speak the same language as social entrepreneurs and don't understand the core issues. However, the environment is improving; engineers are increasingly excited about using their expertise for social change and doing things that matter.
Given the limited number of technology companies to partner with this at this stage, nonprofits should engage on a one-to-one basis with a very specific idea of what they hope to accomplish that is exciting to the engineering teams.
Panelists presented three unique and effective tech partnerships:
Palantir and Verite
Jason Payne (Philanthropy Engineering Lead, Palantir) and Dan Viederman (Executive Director, Verite) explained how Verite was trying to analyze the supply chains of large consumer electronics companies and needed a data-driven solution to fully understand where human rights abuses occur.
Recommended: Tech Partnerships : Essential Impact Accelerators
Palantir has provided their technology platform and resources in order to build a comprehensive map of an entire supply chain and use data analytics to better understand which sub-contractors are engaged in unethical practices. As a consequence, Verite has been able to provide a convincing solution to large global companies who seek high-quality, ethical supply chains.
Google and Imazon
Rebecca Moore (Engineering Manager, Google Earth) and Carlos Souza (Senior Researcher, Imazon) described how Imazon wanted to make key stakeholders aware of the seriousness of the deforestation issue in Brazil, but faced a big challenge in disseminating game-changing information with the ability to create social impact.
Google was able to use its Earth application and technological resources to produce a cloud-free image of forests in Brazil (using filters & multiple satellite images). Google was able to do in one and a half days what would have taken 300 years otherwise.
Imazon is now able to detect and prove deforestation and automatically send alerts to key stakeholders, providing a virtual law-enforcement tool that can help bring about social change.
Autodesk and Proximity Designs
Joe Speicher (Executive Director, Autodesk Foundation) and James Taylor (CEO, Proximity) demonstrated how Proximity was able to use Autodesk's 3D printing expertise and affiliation with the IDEO.org design team to develop the lowest-cost irrigation pump in the world and help farmers in Myanmar improve their productivity – all with an entirely fossil fuel-free production process.