FORUM2015: Our World is Connected by Supply Chains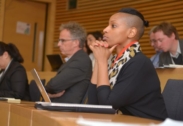 FORUM2015: Our World is Connected by Supply Chains
April 19, 2015 | 3948 views
SUPPLIER CAPACITY DEVELOPMENT: MOVING FROM ENFORCERS TO PARTNERS
THU, APRIL 16, 2015; 13:15 – 14:30
You've heard it a million times before – "we're all connected". Some of us smile. Some of us swoon. Some of us roll our eyes.
However you react, one literal interpretation is certain:  Our world is connected at every turn by global supply chains.
Giant corporations, small businesses, governments and consumers are all connected to a complex system of social and environmental issues. We are connected through the food we eat, the clothes we wear, and the electronics we use.
Global networks of suppliers are massive and complex – and often, so shrouded from the public eye that we, their customers, can end up unknowingly funding environmental degradation and slavery.
Recommended: Supplier Capacity Development
So what are we doing about it?  A growing number of corporate and non-profit forces are leading a charge together to make these global connections clearer, building value and fairness along the way.
Major brands like Levi's and Marks and Spencer are learning that the business case for responsible supply chains is self-evident. Reductions in water usage, improvements in waste recycling, and direct investment in the laborers that power global manufacturing are not only a more morally responsible ambition for companies – they are increasingly being translated into higher financial returns.
What does this look like? Michael Kobori of Levi's says it requires embedding sustainability into business models and cutting out the CSR approach. As Levi's Vice President of Sustainability, he reports directly to the company's supply chain executive.
It also looks like cross-sector alliances and partnerships that bring competitors together behind common targets, leveraging the capitalist competitive push for good, and propelling businesses into a race for the top.