FORUM2015: A Warning on Global Development Goals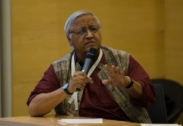 FORUM2015: A Warning on Global Development Goals
April 19, 2015 | 4070 views
GLOBAL DEVELOPMENT: WHAT SHOULD WE FOCUS ON AND HOW WILL WE MEASURE SUCCESS?
THU, APRIL 16, 2015; 13:15 – 14:30
Bunker Roy, Founder and Director of Barefoot College, brought a sobering and important message to this Skoll World Forum session on global development.
Before he spoke, we heard from three sides the of impact metric discussion; the UN and their Millennium Development Goals, the Copenhagen Consensus Centre, and the Social Progress Imperative, which all have their unique strengths. Then Roy responded:
"Metrics makers are not connected to the very poor people who live on less than a dollar a day. These are the people Mahatma Gandhi called the very last man and woman. So I think, with due respect, these goals are a joke, because they don't relate to the lifestyle and the workstyle and reality of rural communities living around the world. Who are living a hand-to-mouth survival existence.
"To me, if that consultation with very poor is not institutionalized then these goals do not mean a thing. Right now what we [Barefoot College] have been doing for the last 10 years is to take rural, illiterate grandmothers who have never left their villages in their lives and through sign language make them solar engineers who then go back and bring electricity to their villages, all within six months.
"Then we hear of people like Jeff Sachs who is spending $2.5 million in one village and we think if we had $2.5 million dollars we would be able to 'solarify' 20,000 houses, train 300 grandmothers, and cover the whole continent of Africa.
"Is this a model that the UN is pushing? Is this a model that people are talking about as the model which is sustainable? It is a joke.
Recommended: Global Development: What should we focus on and how will we measure success?
"We have to be able to go down to the very poor people and ask them what their goals are and they will be totally different from the goals that these guys up in New York or somewhere in Geneva or wherever decide.
"We have to be able to demystify and decentralize these goals and make them much more relevant for the very poor; make them feel like they can manage, control, and own those goals. How do we manage to do that – that is the most important issue today.
"What we focus on is making communities self-reliant and letting them identify their own goals and actually make it happen as it is then in their own hands. We actually try and see which skills, knowledge, and wisdom are required which are neglected in the mainstream. How do we bring those into the mainstream goals? That is what these goals have to address. The basic minimum needs – light, water, work.
"If there was light, water, and work in the remote rural communities around the world, why should anyone migrate to the cites? How do we prevent migration and enable all people to live with dignity and self-respect in the very communities they are from? This is the issue today.
"People who set these goals are so far away when they set these them. It is unbelievable how detached they are from the very communities we are working with.
"We went to 34 of the least developed countries around the world, including Africa, and we asked them about the goals and they looked blank. It is all done on the government and international levels. It hasn't really percolated down to the poor and they may have a completely different set of goals than you, that you may not agree with, but you have to accept and respect them.
"I don't how to address the whole issue of goals and targets, because if you are not involving these communities that these goals are for…It is not going to work."