FORUM2015: Reducing Fossil Fuel Dependence a Viable Goal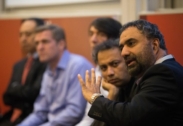 FORUM2015: Reducing Fossil Fuel Dependence a Viable Goal
April 19, 2015 | 3231 views
HOW FAST CAN SMALL GROW? THE CASE FOR SOLAR POWER
FRI, APRIL 17, 2015; 10:00 – 11:15
In this session, moderator Aimee Christensen (Founder, Christensen Global Strategies) discussed the future of renewable power generation with a panel of energy experts.
Participants included Harish Hande (CEO, SELCO Foundation), Xavier Helgesen (CEO, Off.Grid:Electric), Danny Kennedy (Co-Founder, Sungevity), Qi Ye (Director, Brookings Institution), Stuart Rolland (Managing Director, British Gas Business), and Dipender Saluja (Managing Director, Capricorn Investment Group).
The cost of producing solar has declined substantially in the past decade and is now closer to grid parity, becoming an investable asset without government subsidies. There is now more optimism and growth in the "replacement" opportunity – replacing existing demand with solar instead of coal.
Providing renewable solar power to the off-grid population – 1.5 billion people worldwide – is a more difficult endeavor, and there was debate among the panelists on how to best do this. Xavier Helgesen said that delivering solar was not a technical challenge, but rather a distribution, marketing, and financing problem in order to completely take out the risk for the end-customer.
Recommended: How Fast Can Small Grow? The Case for Solar Power
One participant from Barefoot College mentioned that one of the biggest issues with providing solar power to these rural off-grid areas was the availability of maintenance and repair expertise. Since it is expensive to build the infrastructure required to route power to these in-need areas, customers cannot afford any issues with equipment, which it makes it harder for solar energy to reach these areas.
Dipender Saluja and others brought up some interesting points about the investability of solar assets by the conventional investment community, which is required to build solar infrastructure on a global scale. In order to do so, governments need to do a better job at regulating the sector across all dimensions (e.g. subsidiary policy), which many developed countries are getting better at.
Capricorn has observed impressive growth in solar capacity in the US as well as Latin America over the past several years. It is now cheaper to build a solar plant than a new coal plant in California, an unthinkable situation only a few years ago.
As the session ended, participants came away with the sense that reducing dependence on fossil fuels for power generation was a viable goal.