FORUM2015: Getting Readers to Go Beyond the "Like" Button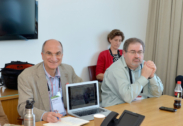 FORUM2015: Getting Readers to Go Beyond the "Like" Button
April 17, 2015 | 4126 views
MOVING BEYOND THE "LIKE" BUTTON
THU, APRIL 16, 2015; 11:45 – 13:00
You read an article about someone in need, it moves you, and you want to help. But you don't know how. Sure, sometimes a link to a nonprofit is included at the end, but can't the media do more to tell us how to help?
Yes, said Michael Skoler of Public Radio International and PRI.org, who led a spirited lunchtime discussion, "Moving Beyond the 'Like' Button," at the Skoll World Forum Thursday.
"If what we report is not important or relevant enough to make people pause and consider action — and if we don't help them find meaningful actions — then all we are doing is adding to the relentless stream of information. Worse yet, we may be sending the message that little can, or should, be done," Skoler said.
Skoler and his colleague David Beard shared some fascinating case studies, and one big idea: Include a box with a call to action. It works.
My favorite case study? The story about the Detroit man who walks 21 miles to and from work. In case you didn't read the article, which went viral and caused thousands of people to donate money to him, it began in the Detroit Free Press.
"The paper was unprepared," Beard said. "There was no causal connection."
PRI.org, with a grant from the Knight Prototype Fund, is exploring how to make it easier for people to directly respond to stories like the Detroit one by displaying user actions within the story.
The session participants – mostly journalists – shared their own insights, including a debate about whether or not comment sections are worth the time and effort to manage.