FORUM2015: The Editor of Upworthy Said This Would Go Viral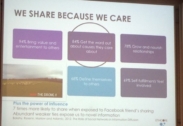 FORUM2015: The Editor of Upworthy Said This Would Go Viral
April 16, 2015 | 3162 views
CLICK AND TELL: GOING VIRAL IN A DIGITAL WORLD
WED, APRIL 15, 2015; 15:00 – 16:15
Apparently if I started this post with a video or picture of a cute cat or baby who would tug at your hearts, I would be halfway to going viral. Well, I may be twisting the truth of this session's core message a little bit.
What true, though, is that emotion plays a very important role in posts that go viral. Viral content often comes from the heart – it carries a great measure of authenticity. No wonder the message that came out from this session – with Adam Mordecai, editor of Upworthy – was how important it is to tell a great story, to create and share great content.
Recommended: Click and Tell: Going Viral in a Digital World
Don't we all think that others should care about the issues that are dear to us? Aren't our stories already compelling enough to go viral in and of themselves? They are, but only if they are framed in ways that "meet people where they are" and reel them into the complexity that we may have become so accustomed to. This does not mean that we need to "dumb down" our content – in fact, while we can use Upworthy-esque headlines, the content we share still needs to deliver on its goals.
On a more practical note – it turns out that we can't quite make our continent go viral. It is, after all, "partly science, partly luck and partly hard work". Since we're all used to hard work, we must be well on our way to creating viral content. All we need to do is experiment – ethically and with great benevolence, I must add – on how to pull emotional strings for the greater good.
Please share the emotion.