FORUM2015: Six Tips on How to Pitch to Media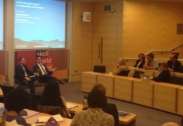 FORUM2015: Six Tips on How to Pitch to Media
April 16, 2015 | 4359 views
CUTTING THROUGH THE CLUTTER: LEVERAGING MEDIA TO GET ATTENTION
WED, APRIL 15, 2015; 13:30 – 14:45
Here are six tips on how social entrepreneurs should pitch to the media, according to Morgan Clendaniel, founding editor of Co.Exist (Fast Company's website focused on world-changing ideas and innovation); Jim Fruchterman, leading social entrepreneur and founder of Benetech; and participants in the Cutting Through the Clutter session at the Skoll World Forum.
1. Pitch in short, personal emails
Instead of an impersonal mass press release, send journalists a brief email explaining the problem you're solving, why it's important, and how you're solving it differently from other organizations. The person-to-person connection with the journalist is a valuable one — not only for getting attention, but for building a relationship you can leverage in the future.
2. Know who you're pitching to
Business-focused media like Fast Company are interested in the "solutions" part of the story — number of farmers served or kilometers reforested. According to Morgan, "the numbers are what get us more than anything else." But for other outlets, it may be human interest stories that get you in the door.
3. "Images! Please send me images!"
Recommended: Cutting Through the Clutter: Leveraging Media to Get Attention
Today's media is highly image-based, so providing high-res photos and videos will really appeal to journalists. Visuals are especially powerful in creating emotion, and with today's technologies and growing interest in witness accounts, anyone can shoot a compelling video.
4. Start small
Don't worry about getting into the big news outlets; those pitches can involve a tremendous amount of work and uncertainty. A story in a local or issue-specific outlet may be easier to secure — and can tempt other journalists later. They may just find your story and come to you!
5. Use social media
In today's referral and recommendation culture, people are most likely to read something a friend has shared. Interestingly, journalists tend to favor Facebook for getting their stories out to their news-consuming audiences and Twitter for finding stories.
6. In the stories you pitch:
To be truly "storyworthy," your story should have a conflict, resolution, and something that moves readers. For journalists, storytelling drives everything!
Try to surprise your audience with something new or different. Readers want a sense of learning something, so demonstrate to the journalist how you can provide that "Aha!" moment.
If there's a way for readers to participate in your cause, emphasize and encourage it! People want to help, they just need to know how.