FORUM2015: Scale Over Scalability — How Government Can Help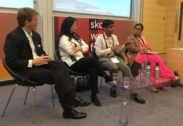 FORUM2015: Scale Over Scalability — How Government Can Help
April 16, 2015 | 3695 views
INDIA AT THE CROSSROADS
THU, APRIL 16, 2015; 10:00 – 11:15
No discussion on making change happen in India would be complete without a discussion of government. However, in a session about India coming to an inflection point, government's role in scaling social enterprises was front and center.
In a panel comprised of social entrepreneurs covering working in land rights, agricultural development, sanitation, and other social issues, consensus was that the government is a necessary ally to achieve broad reach. "If you want to scale something, there doesn't seem to be much of a choice but to go with the government," said Rohini Nilekani (Arghyam). This is especially true of organizations working in areas relating to service provision, like health, education, water, sanitation, or land rights — they all need to find ways to partner with the government for scale.
With this in mind, organizations must "be able to innovate in a way that government can adopt it later," highlighted Nelikani. This doesn't mean programs must emerge fully formed, ready to be incorporated into an existing government program. In fact, having this happen prematurely can cause failure. Rikin Gandhi (Digital Green) highlighted that government doesn't always have the resources to test and improve, but it can incorporate a proven, systematized program into existing programs to scale.
So much talk of government raised questions of what was the responsibility of the state, civil organizations, or markets. Neera Nundy described facing questions from people who wonder why organizations such as Dasra, the strategic philanthropy she founded, take on projects that government should fund. Panelists agreed that the will of both the people and politicians changes, but broadly speaking, said Tim Hanstad (Landesa), "the biggest role government has to play is creating an enabling environment for change." Furthermore, Gandhi emphasized, partnering with government to achieve scale is not just wise on the part of social enterprise, it's the will of the people. "There's been a development of sufficient education and populism that that's what they're interested in seeing."
Recommended: India at the Crossroads
While there were scattered question from delegates on the wisdom and effectiveness of government partnership, John Oldfield, CEO of WASH Advocates, summarized the sentiment underpinning the majority of comments. Thanking the panelists for the conversation, he praised the maturity of a discussion that could incorporate government as a tool rather than a necessary evil. Why? "I don't like 'scalability'," he said, "I like scale."