FORUM2015: Is Coding the New Literacy?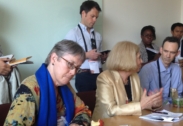 FORUM2015: Is Coding the New Literacy?
April 16, 2015 | 4033 views
LEVERAGING NEW AND OLD TECHNOLOGIES INTO TODAY'S EDUCATION MODELS
WED, APRIL 15, 2015; 11:45 – 13:00
The idea of using technology for education is not new. With the massive uptake of mobile phones around the globe, mobile is seen as a technology solution to bring about universal education. Computer coding is being advanced as a skill set that can bring about social mobility and empowerment.
"Coding is the new writing, it is the new literacy."
This was the focal point of today's Skoll World Forum session on "Leveraging New and Old Technologies in Today's Educational Model" — and it was met with mixed reactions.
For some, this emphasis on mobile as an educational tool elicited excitement about possibilities. For others, it brought to the fore several tensions — about the assumed availability of technologies to address education issues. It highlighted the problem of thinking of education as a universally homogenous issue.
Coding can be educational and empowering. In a program in North America, learning code gave disadvantaged children a new skill set to take them into higher education. In a program in Africa, women learned to code — and went on to secure much more respected and well-paid roles within their communities.
However, the idea of coding and mobiles holding the key to education assumes that infrastructure and resources are in place to enable these new technologies to be used as learning tools. In examples from around the globe including Pakistan, Africa, and Asia, the problems of reliable power sources, access to technology, and knowledge of how to use these technologies were made apparent.
Where coding and mobiles could not (yet) hold the answers for education, there also came a sober warning: if we make coding the new writing, and the new desired skill set of the educated, we risk exacerbating the "digital divide" between those who have and those who do not have access to technology.
What both sides of the discussion made apparent is that the problems and solutions to education are not homogenous around the globe. It doesn't help to talk of education in a singular sense. "You must look at what is appropriate in the given [educational] context," said Suzanne Gilbert, senior director of the Innovation and Sight Program, Seva Foundation.