FORUM2015: Entrepreneurs On Triumphing Over Adversity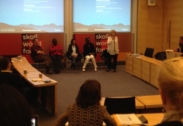 FORUM2015: Entrepreneurs On Triumphing Over Adversity
April 16, 2015 | 3559 views
DOWN IS NOT DEFEATED
THU, APRIL 16, 2015; 10:00 – 11:15
This session, moderated by Diana Aviv (President and CEO, Independent Sector), brought together an incredible panel of social entrepreneurs to discuss how leaders can overcome personal and professional hardships and develop a deep sense of resilience and self-belief in the toughest times.
Panelists included Ned Breslin (CEO, Water For People), Cecilia Flores-Oebanda (Founding President, Visayan Forum Foundation), Kennedy Odede (President and CEO, Shining Hope for Communities), and Lola Young (Baroness, House of Lords).
These panelists had faced immense adversity in their youth – including child abuse and rape, extreme poverty, and racism – and responded by developing a deeper sense of purpose in their desire to help the world.
Recommended: Down is Not Defeated
During dark times where most people would give up, these individuals used the inspiration their causes provided them as well as a network of supportive partners in order to pick themselves up and continue fighting.
In their view, the most important thing to do in times of crisis is to always keep hope and draw strength from those you inspire to overcome adversity. While going through these life events, the panelists were able to acknowledge their vulnerabilities, including with their staff to some extent.
Each panelist had a different source of hope, developed as a function of their life experiences:
Ned Breslin was able to finally forgive himself, and sees great opportunity and disruption through embracing fear.
Kennedy Odede found that what matters in life are the small things (family, relationships), and everything else can go at any time. He changed his perspective on life after reading Martin Luther King Jr, but can draw on his life experiences and understands the mental states and thought processes of those who are abandoned and turn to a life of crime.
Cecilia Flores-Oebanda described herself as a "stubborn" person who draws hope and inspiration from the human trafficking victims she saves.
Lola Young, who had no family growing up, was able to find deep relationships with friends, and used her childhood technique of escaping into a fantasy world through reading to envision an ideal future for herself.