FORUM2015: Ebola Readiness, Not Response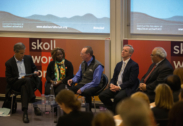 FORUM2015: Ebola Readiness, Not Response
April 16, 2015 | 4150 views
NEVER AGAIN? THE EBOLA EPIDEMIC'S WARNING ABOUT CRITICAL INFRASTRUCTURE GAPS
THU, APRIL 16, 2015; 13:15 – 14:30
Ebola might happen again. Or, a different disease might strike.
We must be prepared. We must have health systems strengthening.
Local governments must be ready. But they need outside help.
Those were the main messages of today's moving Ebola session, called "Never Again: The Ebola Epidemic's Warning About Critical Infrastructure Gaps," which began with a manager from the Liberian health ministry asking us to take a moment of silence for all those who lost their lives to Ebola "with hopes that never again will this happen."
You could have heard a pin drop.
Miatta Zenabu Gbanya, the country's manager of Ebola response, continued, "Among those who died, there were doctors, nurses, mental health clinicians, and professors at our nursing school. That's a big loss. We didn't have the right isolation facilities in place."
She said her government has been analyzing what happened, and how they can avoid it in the future: "How can we use some of our present Ebola resources to fund investment post Ebola? We criticized ourselves, as a government — could we have invested in public health institutes or physical infrastructure?"
Recommended: Never Again? The Ebola Epidemic's Warning about Critical Infrastructure Gaps
Dr. Paul Farmer was particularly passionate throughout the panel, making everyone laugh when he said, "Larry Brilliant and Jeff Skoll and others can make a cool filmed called 'Contagion.' Imagine a film called 'Health Systems Strengthening'; we need a sexier term."
Audience member Cori Shepherd Stern said she's indeed making a film about health systems, "Bend the Arc," focusing on Paul Farmer.
One of the most humbling moments in the session came when audience member Raj Panjabi of Last Mile Health was asked by moderator Richard Besser, "If you could go back to Patient Zero, what systems would you put in place?"
Panjabi said, "It's not facilities or communities – it has to be all of the above. If Ebola and threats like it are threats to people everywhere, then you have to get a health system for everyone, everywhere. It's not rocket science, it's a community health worker for every village. We need to change our bias against remote areas of this planet. That's what really bit us."
His startling statistic: "In some of the Ebola districts we were working in, the government was spending 76 cents per person, per year."
Indeed, the experts on the panel, from UN Assistant Secretary-General Anthony Banbury to Eric Goosby from the University of California San Francisco Global Health Sciences noted that without proper systems in place, a disease of Ebola's magnitude would happen again.
Dr. Larry Brilliant, in the audience, was asked to share his thoughts, and said "imagine a disease that spreads like H1N1 and kills like Ebola. That's what we have to build global governance system to deal with. If we don't, we have to be subject to the tyranny of it."
Read more on the topic from panelist Dr. Goosby.