FORUM2015: A Political, Economic, and Environmental Approach to Climate Justice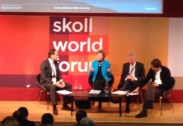 FORUM2015: A Political, Economic, and Environmental Approach to Climate Justice
April 16, 2015 | 3841 views
ZERO CARBON THE CLIMATE JUSTICE WAY
THU, APRIL 16, 2015; 13:15 – 14:30
"Climate change is the greatest existential crisis our race has ever had to face," said Sir David King (the UK Foreign Secretary's Special Representative for Climate Change) in a lively panel entitled "Zero Carbon the Climate Justice Way". Moderated by Ion Yadigaroglu of Capricorn Investment Group, this panel discussed methods of reducing carbon emissions and preventing climate damage.
Panelists included Tasso Azevedo (socio-environmental entrepreneur), Mary Robinson (president of the Mary Robinson Foundation, former UN High Commissioner for Human Rights, and former president of Ireland), and Sir David King.
The main takeaway was that carbon emission levels are currently unsustainable and both an expansion of renewable sources of energy as well as an improvement in energy efficiency are required to prevent irreversible climate damage.
The matter is exacerbated by virtue of the fact that while the world's developed countries were able to achieve economic prosperity through fossil fuels, the environment requires fast-growing developing countries and the undeveloped world to develop without creating similar levels of emissions in the process – a task no country has ever accomplished.
Recommended: Zero Carbon the Climate Justice Way
So how do emerging economies continue to develop while managing their energy security in a viable way? How do cut unsustainable emissions levels in the developed world, at the same time? Mary Robinson is working to influence inter-governmental policy such that the world reduces carbon emissions to zero by 2050.
Sir David King has set up a development fund to address the issue. His goal is to reduce emissions by 80 percent (to two tons per person per year) in the next several decades in the UK, which will require a complete switch to renewable power sources for all ground transportation and the power grid.
The good news is that emerging economics are focusing on alternative fuel sources – China itself aims to add 1000 gigawatts of renewable power by 2030, and is in the unique position of being able to finance itself without foreign investment. The lessons it learns on the way will benefit other developing countries, like India, who have similar goals.
The panelists were optimistic about technological advancements as the solution for a movement away from fossil fuels, as the cost of solar cells continues to decrease. They suggested that regulatory measures are needed in addition to technology-driven economic improvements to truly achieve energy efficiency.
A key part of the solution will involve inter-governmental cooperation and the creation of customized financing solutions for different countries based on their stage of development (e.g. different financing to build solar infrastructure in China than in small island states). A sophisticated political and financial approach, combined with technological improvements that reduce costs of renewable production, can bring about the change we need to save the planet.