FORUM2015: Top Four Tips For Fundraising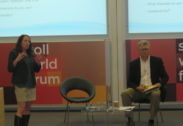 FORUM2015: Top Four Tips For Fundraising
April 15, 2015 | 5106 views
TAKING YOUR DONORS AND FUNDRAISING TO THE NEXT LEVEL
WED, APRIL 15, 2015; 15:00 – 16:15
Mark Rhode of Russ Reid and Teresa Guillien of Resource Media shared many fundraising tips today in their Skoll World Forum session, "Taking your donors and fundraising to the next level." Here are some of our favorites.
Write timely thank you notes, and call to thank them if you can. This might seem obvious, but here's a story Rhode shared: On Dec. 25, a food bank got a first-time gift of $1,000 online. That day, the donor got an email from Food Bank thanking them. Later that day the donor wrote, "Because of your personal, heartfelt and immediate gratitude I am giving more." On Dec. 26, the second gift was $2,500.
Understand the heart of the donor. Yes, his or her heart! "People have an inherent need to belong to something bigger than themselves. Give donors a reason to belong to you and believe in you," Rhode said.
Build a story on nostalgia. When an audience member, who runs a citizen journalism web site, said her story was hard for many to relate to, Guillien suggested she "build a story on nostalgia and said to think about who she was talking to and get creative."
Don't forget the three legs of the stool: audience, offer, and creative. Audience: finding those most likely to support your cause. Offer: The two-way transaction between your donor and your organization. Creative: Words, images and stories that engage the heart and the head.
Recommended: Taking Your Donors and Fundraising to the Next Level