FORUM2015: What We Can Learn from Selling Toilets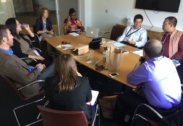 FORUM2015: What We Can Learn from Selling Toilets
April 15, 2015 | 3966 views
SUSTAINABLE SANITATION SOLUTIONS FOR URBAN SLUMS
WED, APRIL 15, 2015; 11:45 – 13:00
A kickoff lunchtime session featured David Auerbach, co-founder of Sanergy, discussing the challenges of scaling a social enterprise in the face of systemic and cultural barriers.
Sanergy manufactures, franchises, and services toilets in East Africa. They currently achieve 40 percent penetration in their areas of operation — a number, one delegate mentioned, "most companies would die for" — yet Auerbach considers Sanergy's job unfinished until they understand and address why this isn't higher.
The conversation that followed, which included representatives from other sanitation- and hygiene-focused organizations, surfaced useful lessons for social entrepreneurs across issues:
Human-centered design is critical to scale. Broad adoption is only possible if you design what the community demands rather than what you think it needs. Sanergy has upgraded their designs based on feedback from operators, reducing barriers to use without significant added cost.
Governments can be important partners, but beware conditional funding and political rhetoric. Conditions around government subsidy can prevent enterprises from pivoting when circumstances demand it, or require using technology that is not fit for purpose.
Changing behavior requires a long-term investment. Sanergy's approach includes ensuring product quality and consistency through a "Mystery Loo User" program. They also focus on serving children, who will grow up to be their user base.
Speaking of government, one attendee noted that "the funny thing about solutions is that the right people are often not in the room to make them." As the session concluded and delegates talked individually about ways to collaborate, the spirit in this room was the reverse.