FORUM2015: Two Middle Eastern Tech Companies to Watch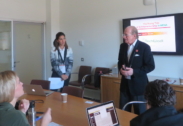 FORUM2015: Two Middle Eastern Tech Companies to Watch
April 15, 2015 | 4065 views
THE RISING TIDE OF ENTREPRENEURSHIP
WED, APRIL 15, 2015; 11:45 – 13:00
TechWadi has helped Middle Eastern entrepreneurs raise $1.2 billion in funding, get acquired for a cumulative total of over $400 million and register more than 1,000 patents.
TechWadi chairman Ossama Hassanein and his colleague, Salwa Katkhuda, started the Skoll World Forum session, "The Rising Tide of Entrepreneurship," on April 15 by sharing how they connect Silicon Valley and the Arab world, giving access to mentorship, capital, and acceleration for entrepreneurs — in a region where none of these are common.
Just one of their many projects: they sponsor a one-month acceleration sprints in Silicon Valley for top MENA startups. Two of their success stories include Roadie Tuner and Wally.
Lebanon-based Roadie Tuner developed a fast guitar tuner. After working with TechWadi and a Google mentor, they increased online sales by 40 percent. TechWadi helped Dubai-based Wally, a personal-finance app, connect to venture capitalists in the Bay Area.
NETKETABi was also mentioned; it provides youth with laptops for education, and chairman Sabri Saidam said, "We had the Arab Spring, but we at ‪NETKETABi developed our own spring; education is the new spring."
The session was standing-room only. Attendees asked questions about ISIS, politics, religion, incorrect perceptions of the Middle East, and President Barack Obama. Delegates shared their positive experiences of living and working the Middle East, and one, based in Ramallah, invited all to come visit.
Learn more about Techwadi at techwadi.org.