FORUM2015: Monitoring and Evaluation: Flipping the Conversation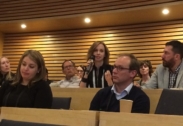 FORUM2015: Monitoring and Evaluation: Flipping the Conversation
April 15, 2015 | 3857 views
THE DARK SIDE OF M&E
WED, APRIL 15, 2015; 13:30 – 14:45
With monitoring and evaluation seeming a gauntlet to run for cash-strapped organizations, today's discussion on evolution and efficiency in measuring impact was both timely and lively. At the top of the session, moderator Carlos Miranda (I.G. Advisors) polled the audience on whether M&E is necessary and useful or a necessary evil. While most agreed it was the former, many could share stories of funders' outsized expectations around what was necessarily or even useful to provide.
Panelists Andrea Coleman (Riders for Health) and Martin Fisher (KickStart International), whose organizations serve hard-to-reach communities in Africa, described using data to refine their own missions and activities, and also to influence donors, ministries, and others whose decisions can dramatically affect their missions. But both also highlighted the expense and logistical challenges of gathering such data, occasionally taken for granted by funders who demand it.
Recommended: The Dark Side of M&E
The conversation then shifted in an exciting way, as both Coleman and Ehren Reed (Skoll Foundation) described a new way to think about right-sizing measurement within an organization's core activities.
It's not so much about monitoring and evaluation, they said, but about having a better conversation between donors and organizations. There's an implicit power dynamic in funders making their support conditional on certain reporting.
"I would flip this," said Reed. "Organizations have the power to achieve the change donors are looking to make." Funders, especially those with broad experience, may be able to propose better measures, but negotiation may be more possible than organizations expect.