FORUM2015: Is Latin America Achieving Its True Potential?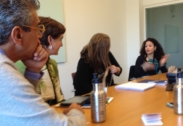 FORUM2015: Is Latin America Achieving Its True Potential?
April 15, 2015 | 3459 views
GLOBAL MEGATRENDS: HOW DOES LATIN AMERICA FARE?
WED, APRIL 15, 2015; 11:45 – 13:00
In this session, delegate Natalie Alhonte (Associate Director, Atlantic Council) and participants (a myriad of foundation, nonprofit, and investment professionals focused on Latin America) led a vibrant discussion on the future potential of Latin America across social, political, and economic dimensions.
Natalie brought a research-focused analysis of the state of Latin America, where she sees strong positive trends in a variety of areas, from rapid urbanization, to the diffusion of power structures, to a revolution in the energy sector. Several participants voiced strong and often less enthusiastic opinions across three key issue areas: the energy revolution and security, individual empowerment, and Chinese foreign policy in the region.
For example, Natalie brought up the point that several Latin American countries, from Mexico to Argentina, have huge oil and natural gas reserves that they can take advantage of to add new jobs and grow GDP. But other participants responded that relying on fossil fuels was not a good strategy (given both environmental considerations and a string of recent oil-related scandals) and that Latin American nations should diversify their energy base by increasing renewable energy production.
The session ended with the majority of participants believing that many of the positive trends are being offset by inefficient and conservative governments, and by voracious Chinese interests in the region in the short term. There was hope that certain positive developments (e.g. entrepreneurship in Brazil, movement of power dynamics from federal to local levels) would effect positive change in the long term.