FORUM2015: Four Tests for Great Pro-Bono Engagements and Four Scoping Questions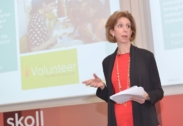 FORUM2015: Four Tests for Great Pro-Bono Engagements and Four Scoping Questions
April 15, 2015 | 3931 views
LEVERAGING TIME AND TALENT FOR SOCIAL IMPACT
WED, APRIL 15, 2015; 13:30 – 14:45
So you're thinking about finding a professional who will work pro-bono, but you're not sure where to begin. Before you start looking, identify your project, said Liz Hamburg, CEO and president of the Taproot Foundation. She offered lots of excellent tips.
Her four great tips to identify a great pro-bono project. Consider:
Scope: How big, and how well defined?
Urgency: If you need an invitation done day before gala, that should not be done pro-bono.
Knowledge needed: Make sure the outside person doesn't need deep knowledge. If a plumber comes into your office, and you say go fix the sink, he fixes it. However, with a strategic project, you can't just say, "I need a plan written, go write it."
Staff and board readiness: You need their commitment first; don't start the project until you have support.
Recommended: Leveraging Time and Talent for Social Impact
Four scoping questions to ask yourself:
What is the challenge?
Is there a clear need?
Is it clearly defined? Define the terms of time commitment and what the actual outcomes will be.
Can you measure success? If they deliver something that goes into a drawer and you never use it again, that's a big waste of everyone's time.
Liz shared an excellent success story, which she also wrote about in a recent article.