FORUM2015: Elephants and Chocolate Pie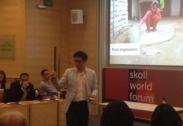 FORUM2015: Elephants and Chocolate Pie
April 15, 2015 | 4757 views
BEHAVIORAL SCIENCE, DESIGN AND OTHER CREATIVE HACKS FOR ENABLING IMPACT
WED, APRIL 15, 2015; 15:00 – 16:15
Imagine someone riding an elephant along a path. Who is steering?
The rider represents your rational side and the elephant represents your emotional side. The path represents the environment or systems you're working towards.
You may think that your rational side is the one that makes decisions, but in reality, it's the emotional side. The rider wants to steer towards the path — let's say, the goal of eating healthy. But if the elephant wants to eat grass elsewhere instead, the rider will find herself on the grass. (Or, say, eating chocolate pie.)
Recommended: Behavioral Science, Design and Other Creative Hacks for Enabling Impact
Presenting on behavioral science and design, Mike Rios of 17 Triggers demonstrated how to motivate the elephant. He explained, "Delighting and making things ridiculously easy for your target audience are the key components to making change happen."
How do we make things ridiculously easy and more delightful? Design thinking. It's all about getting to know your users, understanding their "headaches," and finding ways to cure those headaches in a way that makes the elephant's path as clear as possible.
This is very powerful in creating social impact. In one project, 17 Triggers worked to improve midwife services in rural communities. Working with mothers and health centers, they used trigger mapping to identify "pain points" for accessing maternal care, including information overload for new mothers and barriers to returning to health centers for care.
Using these findings, the team created automated phone messages with simple reminders from doctors and a sticker for mothers' phones with contact information for their health center. These helpful messages and easy-access phone numbers cleared the path to accessing information and services to support new mothers and their babies.