Climate Justice is Humanity's Greatest Challenge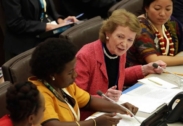 Climate Justice is Humanity's Greatest Challenge
April 14, 2015 | 4016 views
Often the most daring and visionary minds among us look to space when seeking the greatest challenges the human race can tackle. In the 1960s, the challenge was to walk on the moon. Today, almost 46 years after the Apollo 11 mission, entrepreneurs want to fly tourists into space; plans are afoot for the human settlement of Mars; and probes orbit Saturn, searching for life on the planet's moons. Such ingenuity and bold action captivates the imagination and uplifts the horizon of possibility for entire generations.
Yet in 2015 the greatest challenge humanity has ever faced is back here on Earth, and to overcome it we need innovation, collaboration and leadership on a level which the world has never before witnessed. This year will see the conclusion of negotiations on both the sustainable development agenda in New York in September and a new climate agreement at COP 21 in Paris in December.
Currently more than one billion people live in extreme poverty while a "business-as-usual" mindset keeps the world on course for more than 4oC of warming over pre-industrial levels. Climate change exacerbates existing inequalities and, perhaps more than any other challenge humanity has faced, confronts us with the reality of our interdependence. All countries must begin a transition to a zero-carbon and zero-poverty future to save the planet for humanity.
A climate justice approach can help this transition succeed. Climate justice links human rights and development to achieve a human-centered response to climate change, safeguarding the rights of the most vulnerable and sharing the burdens and benefits of climate change and its resolution fairly.
It is as morally unacceptable to allow uncontrolled climate change as it is to tolerate the existence of extreme poverty. This must be the year when the world comes together to act on these two critical and interdependent issues.
By concluding an ambitious, equitable and legally binding climate agreement in Paris this December, the world's governments can set in motion the necessary actions to stabilize the climate and ensure a safe and habitable world for present and future generations.
But in designing the global response to climate change, we also have the opportunity to eradicate extreme poverty, as well as ensuring equitable access to clean energy and sustainable development for all. Eradicating poverty and facilitating low-carbon, climate-resilient development for the billions of people currently living in energy poverty, is central to limiting global temperature rise.
For governments in developing countries, the overriding priority is development. Development requires access to energy, and unless the necessary support and technology are available, many developing countries will power their development with fossil fuels, as this will be the only affordable option available to them.
A transition to zero carbon will only stabilize the climate if all countries and all actors can take part. Without an inclusive approach, we risk creating a divided world – affordable, sustainable and clean energy in some countries, and expensive, carbon-based and dirty energy in others. This would inevitably lead to greater inequality, deplete the global carbon budget and ultimately render the transition ineffective.
However if we seize the opportunity presented to us in 2015 we can reduce climate risks, increase energy security, improve global well-being and health, reduce air pollution, improve quality of life for billions of people, and ensure sustainability of food and water supplies around the world.
We must all engage in this great challenge in order to save the planet. The French presidency of the climate summit in December has decided that COP 21 will focus on four key pillars. The fourth of these is to catalogue the efforts of local authorities, companies, civil society – all sectors – in resolving climate change. This issue is too important to be left to national governments; we must all do our parts.
And yet, even with the most ambitious action, climate change stills poses an immediate and existential threat to some particularly vulnerable countries. I recently met with President Tong from the Republic of Kiribati, who told me of the great uncertainty faced by his people as rising sea levels threaten to submerge their island nation. The people of Kiribati may have no option but to leave their homeland to survive.
Yet there is another way. The sovereignty of Kiribati and the human rights of its people can be protected and preserved. But to do so will require an unprecedented adaptation strategy. President Tong told me about ambitious plans to build up, or even float the islands of Kiribati to prevent inundation.
These plans require far more resources than Kiribati has. Such a solution would require support from other countries, on a similar level to the resources and technology developed to launch the international space station. But surely the opportunity to create an engineering wonder and save a country from annihilation exceeds any challenge that space can offer.