Global Parliament of Mayors Stages a Governance Revolution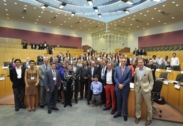 Global Parliament of Mayors Stages a Governance Revolution
April 9, 2015 | 3312 views
In this disturbing new era of terrorism, inequality, tribalism, climate change and injustice, national and international institutions have become woefully dysfunctional. Yet on this ever more interdependent planet where independent states are ever less responsive, cities around the world are demonstrating a remarkable capacity to govern themselves by confronting issues that nations no longer address.
It is perhaps not surprising that mayors agree that their pragmatism and the high levels of trust they enjoy from citizens cynical about big government bureaucracies allow them to solve local problems effectively.
But what is surprising is that in the face of how hard it is to govern at all, mayors are also showing an appetite to govern globally, to govern together. Not out of ambition or pride, but because they recognize that in an era of interdependence, the local good and the global good are pretty much the same thing.
Global challenges need local solutions
This new glocality dictates that local government is possible only when mayors cooperate globally and cities forge networks that permit common action. And that global challenges also demand local solutions.
Networked cities are more effective than cities acting alone, allowing mayors to share best practices and make the world their urban laboratory. In an early draft of the book in which I first advanced this argument, If Mayors Ruled the World, I used the subtitle "why they should and how they already do".
For my most startling discovery in researching urban government and its efficiencies has been the degree to which cities are already working together. From the ancient Mediterranean League of Cities to the tenth-century Hansa (restored today to allow cooperation among cities across the many nations bordering the  North Sea to cooperate), from the UCLG and ICLEI to the C40 Climate Cities, the urban world has been bound together by informal and formal ties that have long transcended national boundaries. Cities have always been defined by bridges rather than walls, connectivity not isolation.
Yet it is not just that cities can and do network and cooperate across borders to address common problems and global challenges: it is that they understand this responsibility to govern together as a right. The right to urban self-governance can be found as early as in the Magna Carta, as well as in the subsidiarity principles recognized in the EU charter, and in the Ninth and Tenth Amendments of the US Bill of Rights that reserve powers not explicitly delegated to the central government for local government and the people.
Cities have a right to govern themselves
Cities are moving to govern interdependently in an interdependent world not just because they need to, but because they have a right to do so in advancing the public good for their citizens – who make up more than half of the world's population and create more than 80 percent of its wealth. Demography, democracy, and economics underwrite their right to govern collectively.
What is missing from these myriad and important urban networks is an institutional framework within which cities can express and realize their right to collective urban self-governance. Existing networks mostly represent special issue siloes, like climate (the C40 Climate Cities or ICLEI) or security (as with EFUS, the European Forum on Urban Security). While they permit the sharing of best practices and the discussion of common strategies, they are neither legislative nor governance bodies and they make no claim to power or global inclusiveness.
Other valuable and long-standing associations like the UCLG (United Cities and Local Governments) do vital research and facilitate universal communication among cities. But UCLG remains the most important global association that nobody has ever heard of, and for the most part has not been able to attract mayors themselves to participate in its crucial work. For it is not a governance organization that enacts common policies and employs collective power.
More than 100 cities join Global Parliament of Mayors
That is the key reason why mayors from around the world have embraced the proposal to found a Global Parliament of Mayors (GPM). And why on October 23 and 24, 2015, in London and in Bristol, England – the Green Capital of Europe for 2015 – the inaugural session of a stunning new global governance body will be convened with more than a hundred cities in attendance.
Invitations are going out this spring to cities with populations from 250,000 to 25 million, to port cities exposed to sea rise like Rotterdam and Seattle, and interior cities anxious about drought like Sao Paulo and Albuquerque; to rich capital cities in the developed world like Paris, Seoul and Warsaw; and to great metropolises in the developing world like Tijuana, Tunis and Dakkar.
The invitation will be ecumenical: Chinese and Cuban cities will be no less welcome than Danish and Canadian cities. And it will come from a host committee of mayors who have been involved in a focused planning process over the last several years – from Bristol, Warsaw, Tijuana, Palermo, Athens, Seattle, Mannheim and Barcelona.
The inaugural session of the GPM will focus on developing and enacting common urban strategies on sustainability and climate change, both to leverage the UN climate conference in Paris two months later, in December 2015, but also to signal that cities are ready to act together whether or not nation states get their acts together.
The inaugural GPM will also seek common policies to secure the financial resources and jurisdictional authority necessary to take action – understanding all too well the danger that when cities act without such resources they are burdened with "unfunded mandates" that can lead to bankruptcy rather than political success. The cities gathering in the fall will insist not just on their responsibility to govern and seek common solutions, but on their right to the common jurisdiction and resources do so.
Cities shape and define us
Cities are taking the lead in pressing for global solutions to the local problems they face not only because the nations to which they belong are failing to do so, but because cities are much more than just another "level of government administration," as political scientists and bureaucrats in Brussels or Washington, D.C. like to pretend.
Cities are quintessential human communities, where civilization was born and democracy was first cultivated. They are where we are born and grow up, where we are educated and get married and have kids, where we play, work and pray; and where we grow old and die. They shape our common humanity and define our identities. They operate by different rules than nation states. Because, as Ed Glaeser has provocatively said, we are an "urban species."
Today more than half the world's people lives in cities – in Europe and the United States, more than three quarters. Eighty percent of global GDP is generated in cities, where most of the world's universities, markets, civic and cultural institutions are found. Eighty percent of greenhouse gases also come from cities, which means cities can address the global challenge of climate change directly.
Cities are multicultural and open, existentially transactional and interdependent. They glory in their diversity and mobility, their creativity and entrepreneurship, their density and edginess. They can grow without colliding. When Germany gets bigger, Poland gets smaller; but Berlin and Warsaw can both grow and flourish. The currency of international affairs is conflict; the current of intercity relations' is cooperation.
If we want to challenge religious schism and tribal conflict, if we want to solve economic injustice and poverty, if we want to create a sustainable and egalitarian planet, then the time has come to let mayors and the citizens they represent participate in ruling the world. Starting on October 23 and 24 in London and Bristol, a governance revolution will be launched. The world's cities will meet to give a new mandate to sustainability and justice, to impart new power to citizens, and to give new hope to all those for whom democracy remains humankind's last best hope.