Beyond Rebuilding Infrastructure: Rethinking Global Health Development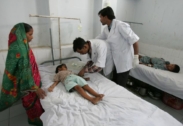 Beyond Rebuilding Infrastructure: Rethinking Global Health Development
April 8, 2015 | 3805 views
The Ebola outbreak in West Africa demonstrates the risk posed by weak health systems. While heroic individuals in Guinea, Liberia and Sierra Leone continue to address the immediate need, we must evaluate and address the causes underlying the current epidemic in order to prevent another.
The practical aspects of shoring up health systems – building infrastructure, training healthcare workers, strengthening supply chains, and implementing information systems for surveillance – are critical. However, addressing these alone is insufficient. In order for public health systems to operate effectively and be prepared to respond to unexpected emergencies, they must have the resources, capacity, and authority to do so.
For over 50 years, the development community has been sending financial and human resources to low-income countries in order to improve the health outcomes of their populations. These efforts have yielded some impressive results, including increased life expectancy, reduced rates of child mortality, and dramatically expanded access to treatment for HIV/AIDS.
However, too often the programs developed to address these health concerns have been planned and implemented by multinational organizations underwritten by external funders. While most of these organizations have agreements with local governments, they may not have a popular mandate or an incentive to heed local priorities, coordinate to avoid duplication, or transition knowledge and resources to the organization charged with the ultimate responsibility for the health of the population –the national ministry of health.
Therefore, despite the best of intentions, development efforts have created programs that largely exist in parallel to the public system, producing a cycle of dependence. This approach is not sustainable. The risk is not local, but global – as we have seen with the Ebola outbreak. It's time to break the cycle and rethink global health development.
Not only has the Ebola outbreak highlighted the risk of fragile health systems and the inadequacy of the international response, but several macro-trends are also converging to create a historic moment for change.
It is anticipated that with average projected GDP growth of at least four percent, several countries will graduate from low- to middle-income status in the next 20 years. As a result of that transition, it is expected that domestic resources, rather than international aid, will be used to fund development.
This recalibration is also likely because the growth in international aid for global health peaked in 2010 and has since plateaued. The allocation of this limited pool of international funds will be greatly influenced by the post-2015 development agenda, including the new Sustainable Development Goals, which are likely to include a mandate for universal health coverage and the prioritization of non-communicable diseases.
As a result of these trends, local governments will face a shrinking pool of external funds while being pressed by their people to deliver more and better services. Assuming they are able to secure domestic funds, ministries of health will have control over more resources and will be able to distribute them based on national priorities without also needing to conform to the agendas of external funding agencies.
As this shift occurs, the ministries will also begin to directly manage more of the programs being implemented on the ground. In order to do so effectively, it is important that there be an adequate number of well-trained local professionals with access to useful tools to plan, implement, and monitor health delivery.
It is the development community's responsibility to prepare for and support this transformation, which will require changes to the way that global health is financed, the methods international organizations use to set norms and standards, how those norms are diffused, and how implementing agencies design and staff projects.