Innovative System Design Makes Solar Work for Commercial Customers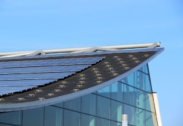 Innovative System Design Makes Solar Work for Commercial Customers
March 28, 2015 | 4929 views
"Grid parity" is the holy grail of solar energy – the point at which solar systems become commercially viable without government subsidy. It's an oft-used phrase, but what's not always mentioned is how parity varies depending on how the system is used.
Ground-mounted solar farms, for example, export all their energy to the grid and thus, in a subsidy-free world, compete directly with grid wholesale prices. Current projections for photovoltaic (PV) system costs and wholesale energy prices suggest that solar farms won't reach grid parity in the UK until around 2028 – a long way off.
User-connected systems (e.g. a roof-mounted commercial or domestic system), however, tend to involve a mixture of self-consumption and grid export. But some systems, for example on an energy-intensive industrial site, might not need to export at all. These non-exporting systems compete for parity with the retail prices paid by the user – typically double the wholesale price. Parity for these systems therefore looks much closer – well before 2020 if long-term energy price trends continue.
Subsidies improve the commercial attractiveness of solar, but they don't change this fundamental picture – the more you consume of the energy you generate through PV, the better the return on investment (ROI). This is why it's important to "right-size" your system, not simply to build the largest array possible.
Time of use matters – energy for some commercial customers costs less in the middle of the day (when PV generation is highest) than it does in the early evening (when UK energy demand is at its peak). However, innovative system design is now playing a role in driving generation to other times of the day when retail prices are higher. For example, east/west systems are in some cases preferable to the traditional south-facing systems, as the benefit of spreading generation across the day more than offsets the lower overall yield. Energy storage, a nascent market showing rapid commercialization, takes this flexibility even further.
Centrica, through its British Gas Solar business in the UK, and its Direct Energy business in the US, helps industrial, commercial and residential customers to design and build optimal PV solutions, meeting customer demands to reduce energy costs and CO2 emissions while maximizing ROI.
Case study: British Gas Solar & London Borough of Southwark / Veolia, UK
Completed in early 2015, a new 750 kW rooftop array sits atop a large waste management plant in the London Borough of Southwark. Currently the largest rooftop array in London, British Gas Solar acted as engineering, procurement and construction contractor to design an optimal solution for both Southwark Council and the plant's operator, Veolia.
Challenges included managing tight operating tolerances and selecting the optimal mounting system to avoid compromising residual guarantees and warrantees from the plant's original construction in 2011. BG Solar rightsized the solution and also deployed an innovative optimized inverter solution to increase yields, system reliability and safety, while lowering installation costs.
This single installation alone is reducing Southwark's CO2 emissions by over 250 metric tons per year – a significant contributor to its carbon reduction objectives.
Case study: Direct Energy, SolarCity & BJ's Wholesale Club, USA
Direct Energy, in partnership with SolarCity, is installing combined solar and energy storage solutions at two US sites for BJ's Wholesale Club, a leading warehouse retail operator. This innovative and intelligent solution enables PV energy generated to be stored in a 200 kW lithium-ion battery and discharged when customer demand spikes, reducing peak demand charges.
Due for completion in early 2015, these two projects have the potential to save BJ's thousands of dollars each year on their demand charges alone at each site, and also provide a long-term hedge against rising demand rates.
Innovative system design is even more critical when you consider the broadening role of users in distributed energy networks. Industrial and commercial firms are now themselves becoming energy companies through multi-technology generation, energy saving, storage and demand-side response.
This complexity demands an intelligent and holistic systems approach in order to design the most effective energy solutions, where customers and solutions providers share in the benefits. As a leading energy partner to major businesses, Centrica will be at the forefront of this exciting new market as it develops.