Investing in Girls Yields Big Returns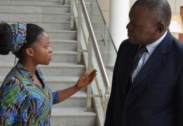 Investing in Girls Yields Big Returns
March 27, 2015 | 4943 views
My name is Memory Banda, and I am from Malawi. My country bears the burden of one of the world's highest rates of child marriage, with more than half of girls forced into marriage as children, sometimes as early as age nine.
Child marriage in Malawi is a practice that weaves together complex economic, cultural, and religious factors – both historic and contemporary. But what does this actually mean? In a country with an HIV prevalence of 10.3%, where the average woman has five children, and where almost one in three women dies in childbirth, child marriage is both the cause and consequence of grinding poverty, gender-based violence, and the inescapable inequality that girls live with every day.
At the age of 11, my sister became pregnant during a traditional sexual "cleansing ceremony" that is intended to prepare pubescent girls for womanhood and marriage. She was forced to marry the man who impregnated her, but the marriage didn't last. Nor did the next one. Now 16, she has three children, little education, and her dreams of becoming a teacher are on hold.
As an adolescent, I refused to go to the camp where the ceremony was performed. That was a hard decision. My family and friends called me a stubborn little girl because to them I was embarrassing the family. But for me it was a life decision. I knew that some girls come back pregnant, they get married, they cannot go to school, and if the men run away from their responsibility, the girls are left on their own with the children. That was not for me. Not after seeing what happened to my sister.
I soon came up with the idea to offer free writing lessons to adolescent mothers who had to leave school due to their early and unplanned pregnancies. Twenty girls joined the class. Our group's writing workshops resulted in a set of testimonials called "I Will Marry When I Want To!"  We hoped to bring a crucial perspective to Malawi's debate over child marriage: that of adolescent girls. This led to my work with the Girls Empowerment Network (GENET), an NGO and funding partner of Let Girls Lead, to help create networks for girls and advocate to stop child marriage.
This was the beginning of my work as an advocate for girls' rights. Through leadership development and advocacy training, girl leaders like me became empowered. We learned how to influence village authorities, many of whom eventually agreed to penalize men who marry any girl younger than 21. With voices amplified, we turned small victories into large-scale change, and were most recently successful in advocating for passage of Malawi's 2015 National Marriage Bill.
Prior to GENET and Let Girls Lead's collaboration, no regional or national alternatives to child marriage had been implemented. As girl advocates our approach and strategy are unconventional, representing a sea change in a culture where young people – most especially girls – are not traditionally empowered to speak for their own interests or against established and harmful traditional practices such as child marriage, sexual initiation, and female genital mutilation.
So what's next? Overcoming deeply held cultural beliefs and traditions will not be easy, especially in outlying rural districts frequently impenetrable by communications from the capital. Local, on the ground education campaigns will be key to disseminating information about the new law.
In addition, while the new law and penal code mandate a minimum age of 18 for marriage, girls as young as 16 can still marry with parental consent. Given that "parental consent" can take the form of pressure, we are now advocating for the removal of this loophole. But the new law does provide girls with a new voice and power. Something tangible we can point to and say, "No. I do not have to marry." The new law also gives sharper teeth to watchdog efforts, enforcement and rescues.
But for this new legislation to achieve its full impact in Malawi and hopefully many more countries, the global community needs to invest in girls. We are living proof that even in the face of poverty, violence, and discrimination, girls are powerful leaders and inspiring agents of change.
When you invest in a girl, she will change her own life, her family and her community. However, even though the economic and social returns of investing in girls are undeniable, World Bank research shows that only two pennies of every dollar in international aid funding goes to support programs for girls. In contrast, an independent evaluation demonstrates that the model of investing in girls and their allies is one of the most effective strategies to improve laws, policies, funding, and programs for girls.
The time has come for our resources to follow our research and our rhetoric. Girls in Malawi – and everywhere else – deserve no less.