Focus on Inequality Hotspots in Girls' Education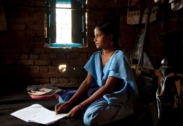 Focus on Inequality Hotspots in Girls' Education
March 19, 2015 | 4720 views
There have been incredible advances for girls and women across the globe in recent decades. A new report out by the No Ceilings initiative at the Clinton Foundation finds that there have been significant gains over the last 20 years.
They also find that "Geography, income, age, race, ethnicity, disability, sexual orientation, and cultural norms, among other factors, remain powerful determinants of a woman's chance at equal rights and opportunities." The gains have not been shared by all.
Other studies have shown the same pattern, for example the World Economic Forum Global Gender Gap Report 2014. While most countries have narrowed gender gaps in health, economic participation and educational attainment, the data shows wide variation among countries, particularly in Africa and Asia. For example, the index for educational attainment varies widely within sub-Saharan Africa.
In my research, I have found a similar story in girls' education. For the last two decades the global education community has focused on getting girls and boys enrolled in primary school in equal numbers, and in many places this has been a success. Since 1990 the number of girls per 100 boys enrolled in primary school has increased from 82 to 95, and globally two thirds of countries have achieved near-equal numbers.
However, the situation for girls in many countries is still bleak, particularly when they reach secondary school age. While more than 70 percent of countries protect girls' rights to primary education in their constitutions, only about one third provide the same protection for secondary school. The level of enrollment varies widely between countries, illustrated by the map below.
Gender Parity in Secondary School Enrollment, 2012 or latest data since 2006. Source: Millennium Development Goals Indicators Database.
Highlighted in dark red are 23 countries where girls are significantly less likely to enroll in secondary school compared to their male peers. They are primarily concentrated in sub-Saharan Africa and South- and West Asia. For too many girls, where they are born has undue influence over their opportunities in life.
Additionally, within many countries poor and rural girls lag significantly behind their wealthier, urban peers. For example, in sub-Saharan Africa, at current rates it will take nearly 100 years before all of the poorest girls are completing lower-secondary school. For rich boys, this milestone will be reached in 30 years.
The same story is true when you look at gaps in the World Inequality Database on Education from UNESCO. While gender gaps have narrowed recently for enrollment in most places, when comparing rich and poor, or urban and rural, being a girl exacerbates disadvantages in many countries.
Getting all girls into secondary school means focusing on the most disadvantaged girls in these hotspots, and often addressing other factors, like attacks on schools and child marriage. In at least 15 countries girls have been attacked or harassed in their schools since 2009, from rape and sexual harassment by teachers and classmates to outright attacks on girls' schools. Additionally, there are more than a dozen countries where more than 40 percent of girls are married before they are 18. In Niger this is the case for 75 percent of girls.
This evidence paints a complex picture of the situation for girls' education. Moving girls' education priorities beyond getting equal numbers of boys and girls enrolled in primary schools will take a more nuanced approach that targets the most disadvantaged girls and the specific challenges they face.