How Do We Close the Terawatt Gap?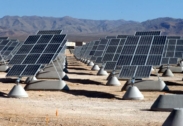 How Do We Close the Terawatt Gap?
March 18, 2015 | 3730 views
2014 was the biggest year ever for solar power. What happens next?
The good news is that we seem to be winning. Deutsche Bank recently projected that the solar industry will generate $5 trillion in revenue by 2030, and said that India will be 25 percent solar powered by 2022. Though the final figures are not yet in, it is clear that 2014 was a banner year for solar deployment from China to the US to Zambia and many of the countries in between.
The International Energy Agency (IEA) hailed a "surprising" halt in the rise of global carbon dioxide emissions last year, even in a year of economic growth. Never before have we decoupled GDP growth from increases in CO2 emissions. The IEA credits the growth of solar and wind energy – and the decline of coal-fired power generation in China and the OECD countries.
The growth in solar energy gives many people a sense of hope – that, as IEA Chief Economist Fatih Birol says, "humanity will be able to work together to combat climate change, the most important threat facing us today."
But solar power from photovoltaics currently offers only a tiny percentage of global electricity supply – and an even smaller percentage of total energy use. So how quick can we grow it? Flat screen TVs were five percent of the market in 2003 and 95 percent in 2013. We've all lived through the rapid adoption of cell phones, which went from novelty to ubiquity at a slower rate than photovoltaic solar panels are currently exhibiting. We're only a couple of doublings away from supplying more than five percent of global electricity demand with solar power.
Major investors like Berkshire Hathaway have started putting more money into clean energy projects than dirty ones. The momentum is building, with many of the big banks getting into the game. Governments the world over are also setting ambitious goals – India is the latest, targeting 100 GW by 2022, following the examples of Japan, Germany and China.
They are not alone: Algeria aims for 13.5 GW of solar projects by 2030. All 6000 mosques in Jordan are getting rooftop solar. Saudi Arabia has set record low solar prices that herald a shift away from fossil fuels. And in the US, in 2014, new solar projects beat wind farm and coal power plant development for the second year in a row. A new panel is installed every two and a half minutes – one since you started reading this piece.
Apple just invested $848 million in solar power. Even the American Petroleum Institute, which included solar in its "State of American Energy" report for the first time last year, says that solar energy production will double in 2015-16.
Why is this happening? Because solar has gotten cheap.
A study by Agora Energiewende, a German think-tank, shows that within a decade – the period it takes to propose, finance and build a new nuclear or coal plant in most countries – solar photovoltaics will offer the cheapest form wholesale power. At the plug, solar-generated electricity is already cheaper than what utility customers pay in much of the world.
Agora Energiewende says that by 2050 electricity from solar plants will cost less than $0.02 per kilowatt hour (kWh). Today, you are probably paying more than $0.10/kWh. Even if the price of oil dropped to $10 a barrel it couldn't match solar on cost, according to the National Bank of Abu Dhabi. Low cost is what's driving the uptake.
Along with onshore wind, the other form of renewable energy that is competitive in many markets without more subsidy than fossil fuel, we'll install a lot of carbon-free power capacity in the coming years. According to some projections, we'll likely install 1 terawatt (TW) – 1 million megawatts – by 2025.
But according to the IEA, in order to keep the global temperature increase below two degrees centigrade, over half of the global energy supply should be composed of renewables by 2050, including 26 percent from solar alone. What we've got going on is not enough. Given global growth there will be a gap of 1 TW of clean power.
We are missing 1 TW of clean power capacity, and we need to find it in the coming years. For that we need more product leaders and entrepreneurs devoted to spreading solar. It is the most cost effective solution to the human need for carbon-free electricity, but a lot more genius and hard work needs to be applied to sell it.
The speed of solar now depends on how many new businesses get into the game and grow. We need to support more solar entrepreneurs, from the bottom of the pyramid to the top. The case for solar power is clear – now we need to deliver it.