Looking Failure in the Face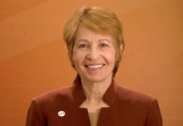 Looking Failure in the Face
March 17, 2015 | 3948 views
At 28, I became the CEO of a battered women's shelter in New Jersey, USA. It provided a safe haven and an array of services for victims of domestic violence who were trying to turn their lives around.
All but three of our staff were paid through a government program that subsidized employment for individuals with low or no income. At that time I didn't pay attention to public-policy developments – so I was totally crushed when I learned that politicians in Washington, D.C. had decided to shut down the subsidized employment program, leaving a gaping hole in our shelter staff. How would we keep the doors open – 24 hours a day, seven days a week – and, importantly, ensure the safety of our residents?
What I experienced was something like total panic. To this day I can still summon up the sense of loss and despair, the feeling of powerlessness that came with believing that I had no options.
As a new immigrant to the US I did not have a lot of connections and people to turn to for help. I remember feeling anxious about having to figure something out so that the women in the shelter would not be forced to leave, putting them in danger.
Recommended: Leading with Authenticity - 2014 Skoll World Forum
The panic and anxiety pushed me to take action that I might otherwise have been too timid to undertake. I persuaded a local radio station to interview me about our shelter's work with battered women. I knew we had a compelling story to tell – and I shamelessly urged people to volunteer with us. The response was overwhelming.
Soon volunteers started coming by the boatloads. All at once we had a new problem: how to train and direct these idealistic novices in the ways our shelter worked. I asked our three employees to serve as volunteer trainers. As for me, I trained the trainers, with no expertise in that line of work.
I was perpetually worried that the volunteers would not show up – and then what would we do?  But they did show up. A year later the crisis subsided and we were able to develop a solution that brought us more paid staff.
I am sure that similar things have happened to many others. I think about how we missed the clues about the cancellation of the federal employment program, how we failed to plan properly. But we found our way. We looked failure in the face and transformed it into something else: a team effort that led to a solution.