Is the Traditional Role of the Teacher Outdated?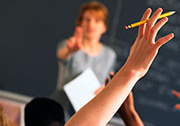 Is the Traditional Role of the Teacher Outdated?
April 23, 2014 | 8228 views
"…let me compare education to health care. If a doctor from 100 years ago entered a hospital today, he would feel very out of place. He wouldn't understand the equipment or the processes. If, however, a teacher from 100 years ago entered a modern day classroom, he would not feel so lost…" – Vicky Colbert, Founder and Director, Fundacion Escuela Nueva
In this session, Pamela Hartigan, Director of the Skoll Centre, lead a thought-provoking discussion on the role of the teacher and whether or not our definitions of this role are outdated. The session started by suggesting the traditional role of the teacher was that of a member of society, who imparted knowledge to a set of students.  With the panelists being asked to contrast this ideal against our modern context of technological advances and resource scarcity.
The panelists were divided in their answers and perspectives on the question.  What was clear from each panelist's introduction to the topic is that it is not easy to define what a "teacher" is, or what their roles in society are. Like so many other terms and roles in society, "teacher" is not a globally homogeneous term. Peeling back the heterogeneous layers of possible definitions, it is not then so easy to define what a teacher is and therefore answer if they are outdated or not.
Vicky Colbert, as emphasized in the quote above, thinks the traditional style of the teacher is outdated and society, like her organization, Fundacion Escuela Nueva, must change its learning paradigms. For Madhav Chavan, CEO Pratham, he defended the role of the teacher and broadened the definition of what a teacher means. He pulled apart the role of the teacher across the centuries and pointed out that the teacher of the 14th century taught what he knew and what society wanted to be taught. This, however, changed in the age of enlightenment when the church no longer directed teaching and instead the state did. In this process the state told teachers what to teach and the system of education became the linear style curriculum we would recognize today, which he suggested is outdated. Teaching needs to become less linear in its approach. Agreeing with Vicky Colbert, they suggested new, somewhat easily-available technologies should become part of teaching and therefore an accepted part of a child's learning toolkit. For example we learned 70% of homes now have cell phones, but they remain mostly banned from the classrooms. Tech's momentum should not be feared by educators, but rather used to help developed a new un-linear curriculum.
Madhav, however, also pointed to the positives of our traditional teacher. Teachers are there to not only teach, but to protect children and to offer them care and love, often when they are not receiving this elsewhere. Ziauddin Yousafzai agreed, being a teacher himself and shared a story from his own childhood. He told us of a time when his schoolwork was shown off to all the teacher and other publics as a example of great work. It was this memorable moment of praise and encouragement he felt from his own school, which pushed him to keep learning and later become a teacher myself.
David Johnson from the University of Oxford agreed with both sides of the discussion, suggesting we need to both retain the positives we have from our "traditional" teacher role, whilst also looking for ways to innovative the role to fit our modern society. He also brought to the discussion the voice of the teacher. A voice somewhat over looked in the discussion so far. David pointed out that we may want to change the role of the teacher and we should have some expectations of what these changes could be, but we shouldn't' t assume teachers can become society's "superman". We cannot expect them to fit every need we have in society of teaching and caring, especially in scarcity and war stricken areas, where teachers face increased pressures and tensions.
Although, the question of whether or not the role of the teacher is outdated remained debated dependent on what definition of the teacher was being assumed.  The session ended with a positive agreed by all. What is not in doubt is the ability of children to learn and a future where learning will continue to develop both within and beyond the school walls.