Cracking the Code on Social Impact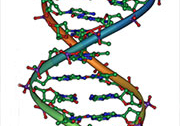 Cracking the Code on Social Impact
April 23, 2014 | 6287 views
Jason Saul, CEO of Mission Measurement, and Nolan Gasser, Chief Musicologist at Pandora, might, at first, seem like an unusual pairing for a session at the Skoll World Forum, but there again, what is usual for this event.
The duo took to the floor to launch Mission Measurement's groundbreaking new social initiative, the Impact Genome. The inspiration behind the measure came from the observation other sectors have successfully used algorithm-based data to predict future behavior or outcomes.  The most notable examples being the 1990, Human Genome Project created to predict health outcomes and Pandora's, 2000, Music Genome Project, revolutionary quantitative database designed to predict song choices and create enjoyable playlists.
The concept of the Impact Genome is to find a way to standardize, benchmark and thus enable comparisons in social impact programs. The challenge of social impact programs, however, is that it is often in the funding stages, pre-outcomes, that comparable data is necessary. So how is it possible to find a benchmark measure in the absence of actual data?
The answer, Jason, told us involves flipping the measurement paradigm from empirical, longitudinal, retrospective data to real-time, predictive, "synthetic" (created) genomic data.
Although it may sound like an impossible task to find a way to compare social enterprises, which are all very different, in fact using this "flipped" approach the team found that there is a useful, comparable, and finite data point  – outcomes.  There are precisely 132 different types of "outcomes" all social enterprises work toward.
For more on the math behind the model, how the team reached the number 132, and the factors which lead them to "outcomes" as the comparable data point, please check out Jason and Nolan's Skoll World Forum post here and their SSIR piece.
Using these standardized "outcomes" as the comparable metric, we can then start universalizing social impact data and find a useful way to measure and compare projects. Most importantly, this standardization will allow "cost per outcome to be measured," which will help funders and projects to align better.
This will bring about the end of social projects begging for grates and rather leave projects empowered to "sell" grants to organizations that know they want to "buy" them.