Skoll World Forum Review: Corporate Intrapreneurs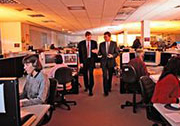 Skoll World Forum Review: Corporate Intrapreneurs
April 15, 2014 | 3967 views
Ah welcome the corporate intrapreneur! Often sidelined for the social entrepreneur in terms of glory, the corporate intrapreneur is a much-neglected specimen, toiling away in giant systems, attempting to move snowballs through … well you get the picture.
Skoll World Forum's event, hosted with Business Fights Poverty was an interesting look into how corporate intrapreneurs work within existing corporations to change and effect greater sustainability and social impact. What was clear from the session is that there is large momentum in how small and large corporations are transforming their business models to achieve social impact and a positive impact on the bottom line.
The speakers who represented their experiences at Syngenta, Citibank, Embrace and Kickstart International spurred a discussion where attendees from institutions as diverse as Starbucks, Barclays, Technoserve, Accenture and others discussed how to create agendas for change from within existing infrastructure and processes.
The importance of finding a champion within one's host institution was highlighted, as was the importance of finding an external champion that could provide validation for the initiative that an intrapreneur was trying to spearhead. Additionally the importance of not only convincing decision-makers internally to give the green light, but also of convincing everyone down the implementing chain that transforming the status quo is going to be worth the time and effort, was also highlighted. Questions around what would happen when there was staff turnover were raised, as were the difficulties in scaling an initiative across the whole company.
We at Business Call to Action also reiterate that the solutions to building intrapreneurs lie in building the business case, fostering a movement, testing, piloting, iterating, measuring and evaluation. For more information on how to do this, click here.