Recap: The Impact Jackpot: Service Delivery Innovation for the Very Poor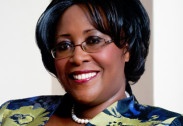 Recap: The Impact Jackpot: Service Delivery Innovation for the Very Poor
April 14, 2014 | 5432 views
"We can approach any poor person, anywhere in the world and know exactly how to solve their problem," stated One Acre Fund Co-Founder and Director Andrew Youn during this year's Skoll World Forum session on The Impact Jackpot: Service Delivery Innovation for the Very Poor. "Now we need to focus on basic [service] delivery." Mulago Foundation's Kristin Gillis led panelists in a conversation on the most effective strategies to package and deliver affordable services to the very poor at scale.
A powerful presence on the panel was First Lady of Zambia HE Dr. Christine M. Kaseba-Sata, who is playing a critical role in revolutionizing her country's healthcare system. She is the chief strategist behind Zambia's fleet of mobile health clinics that are delivering more services to more people across the country that ever before.
Dr. Kaseba-Sata highlighted the importance of conducting public education and encouraging knowledge sharing within communities to create demand for these services, so there is common understanding of each individuals' needs and how the services offered will improve their health and quality of life. These communities, and particularly their youth, are now among the most powerful voices holding the Zambian government and service providers accountable for delivering vaccines, contraceptives and other basic healthcare.
Neal Keny-Guyer, CEO of Mercy Corps, emphasized the importance of drilling down to the root cause of poverty in affected communities, bolstering economic development with, for example, strategies to mitigate conflict. This approach ensures that other factors won't create obstacles for effective service delivery. PATH CEO Steve Davis, who spends 1/3 of his time in the communities they work with, also spoke to the importance of tuning into the needs and voices of the people being served to create demand-driven products with a focus on customer-driven design. Davis remarked that he often discovers the greatest innovation coming from within the communities PATH serves.