Recap, Day Two: Leadership, Talent and Innovation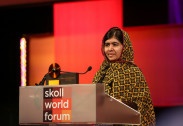 Recap, Day Two: Leadership, Talent and Innovation
April 11, 2014 | 4259 views
(Editor's note: Videos from the sessions will be shared and linked here as they are produced and posted.)
No rest for the wicked entrepreneurial at Skoll World Forum: we jumped right back into the deep end on Thursday. Still basking in brisk sunshine, delegates and speakers joined into our conversations on ambition with enthusiasm and creativity. Here were some of the themes that emerged during Day Two:
Media, big data and innovation. It's no surprise that three of the hottest topics in social change work showed up here at Skoll. Innovators from NPR, CNN, Al Jazeera and more shared their successes and failures, while the ongoing debate of what constitutes advocacy journalism– and whether or not institutions should ever engage in it. And everyone's craving more and more big data– for policy-making, for advocacy, for storytelling.
"Dirty secret of [impact] measurement – is we often feel pushed into measuring things that we never meant to measure" @JasonASaul #Skollwf

— Skoll World Forum (@SkollWorldForum) April 10, 2014
Instagram & Twitter seem onerous on a bad day, but I've become a devotee. I want to do journalism, not promote it. @MarcoWerman #skollwf — Wendy Levy (@twendywendy) April 10, 2014
"Data journalism allows #journalists to go from anecdote to analysis" according to Paul Steiger from @ProPublica #SkollWF — Benoit Wirz (@bthewirz) April 10, 2014
Is it intellectually viable to create distinctions between advocacy & impact journalism? Pejorative or empowering? @C4BRITDOC #skollwf

— Wendy Levy (@twendywendy) April 10, 2014
Question: Is news becoming more superficial? Madhulike of @NPR: No, the opposite. We have more ways to reporting than ever. #SkollWF

— Skoll World Forum (@SkollWorldForum) April 10, 2014
Leadership and talent. Authenticity was the key across multiple sessions covering how we best use our most effective skills as leaders, founders, activists and investors. A key takeaway from the Leading with Authenticity seminar (video here) for many was embracing and celebrating lots of different leadership styles–rather than focus on the strictly charismatic and demonstrative style of extroverts, we can also support the incredible empathetic skills of introverts. Investment in solid talent–not just celebrity talent–runs along the same lines, according to Echoing Green CEO Cheryl Dorsey.
#CherylDorsey: @echoinggreen invested $2.4m in 50+ fellows who went on to raise $30m, staffs increased x11 #SkollWF #socent

— Skoll World Forum (@SkollWorldForum) April 10, 2014

SkollWorl
If your are only looking for leadership, you are not going to do a lot of deals – @RootCapital talking about ambitious #Women #skolwf

— Skoll World Forum (@SkollWorldForum) April 10, 2014
Access to, ownership of resources. We all know that capital (financial and social) are necessary elements for building social movements, but the nuance of resources needs serious exploration and unpacking. Particularly women's access to what they need to create better lives came up as a theme.
Where women have more access to agri land they have more control over household decisions #hirutgirma #landesa #SkollWF

— Skoll Centre (@SkollCentre) April 10, 2014
I ended up working for nothing because credit was so expensive – Comfort Aku Adjahoe on female entrepreneurship in #Ghana #SkollWF

— Astrid Zweynert (@azweynert) April 10, 2014
@RootCapital also run a $5m biz training programme for women alongside their banking activity – the two have to go hand in hand. #SkollWF

— Skoll Centre (@SkollCentre) April 10, 2014

The day closed with the Skoll Awards for Social Entrepreneurship at the New Theatre, and I don't think there was a dry eye in the house by the time the evening was over. The Skoll Foundation's seven awardees– read more about them here— were each featured in short films that tell the story of their work, and what struck me most about these organizations was their commitment to community-led solutions: "by affected populations, for affected populations" could have been a rallying cry. That shift away from a more paternalistic, "we know what's best for you" approach to change work has dramatic implications for collective elevation of humanity. We're all in this together.
Finally, Malala Yousafzai was honored with the Skoll Global Treasure Award: a prize awarded only a few times before in Skoll's history–to Desmond Tutu and Mohamed Yunus. It's hard to describe what it feels like to hear and feel this powerful young woman speak. At just 16 years old, the depth of her wisdom has the ability to resonate with even the most cynical of observers. We could not be more thrilled than to support her and her work; Skoll Foundation CEO also asked the audience to congratulate her parents, who were in attendance as well.
A standing ovation for the incredible Yousafzai family then led us into a body-shakin' dance out performance from the Playing for Change band. Music moves the soul, and we were ready to take on the world.