Recap, Day Three: Vulnerability, Creativity and Collaboration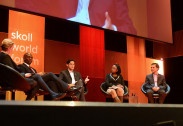 Recap, Day Three: Vulnerability, Creativity and Collaboration
April 11, 2014 | 5227 views
The final day of the Skoll World Forum came up on us quickly! Friday morning's mood at Said Business School captured the levels of emotion that many of us felt: exhilarated, exhausted, never wanting to leave, anxious to get home and implement the new ideas we've learned. (We've heard of #TEDflu, by the way– where TED conference attendees catch colds because they're running to so many amazing events, and resting very little. On Twitter, I found the Skoll equivalent: #SkollBrain.)
These were some of the conversations and themes we explored during Day Three:
The intersection of collaboration, across sectors and communities. Highlighting the Forum's focus on not just the challenges, but the solutions, multiple sessions throughout the day tackled the often unsexy issues of infrastructure and service delivery with innovative, ambitious ideas. In "Meeting the Challenge of Increased Energy Demand," it was noted that the coming energy crisis already has a solution in solar, and that a breaking down of barriers between market forces, public policy changes and citizen grassroots engagement is need to make these visions a reality.Additionally, when it comes to solving human resource challenges like the global youth unemployment crisis, that kind of cross-pollination across sectors is crucial. More flexible immigration laws, education reform that includes real-world skills building and building a culture of open source employment development were all discussed at the Forum; when it came to healthcare, using peer education practices to build awareness of services (and the need for them) has created both the systems for delivery, as well as ways to hold the Zambian government accountable for those deliveries.
Finally, we closed out the week at the New Theatre, with a plenary that took us through an ambitious glimpse of the future. Stephan Chambers of the Saïd Business School asked the audience who had cried, or got goosebumps, or learned deeply during the week. "That's the 'Skoll Effect,'" he said. "You are the Skoll Effect. And it's visible from space." Speaking of space, Planet Labs demoed their project: taking pictures of every spot on the Earth at every minute of every day. That kind of data will allow organizations to track urban changed, detect natural disasters, demonstrate crop yield, and so much more. NGOs and other social change agents will have unfettered access to incredibly democratized geo-expertise and GIS-data.
Wrapping up the future-looking discussions was an inspirational talk from Tony O. Elemelu, one of Africa's most influential business leaders and philanthropists, where he highlighted the need for emotional intelligence and embracing resilience. Following his talk, Francine Lacqua moderated a discussion between Elemelu and three of Skoll's Young Global Leaders, who used this unique opportunity to ask him questions on leadership development, governance and the importance of stabile electricity in Africa. Finally, we were treated to a gorgeous film that had been produced throughout the week by Benjamin Reece, where delegates and speakers shared some of their most vulnerable insights on their reason for existing– it's a must-watch video. Stephan Chambers summed it up best, once again: "You play with fire and I love you for it." We do, too.