Recap: Leading with Authenticity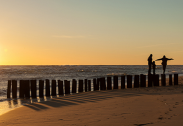 Recap: Leading with Authenticity
April 10, 2014 | 6185 views
This morning's conversation on Leading with Authenticity explored the strengths of the quiet leader, an approach that is not as widely celebrated as "typical" charismatic leadership styles. Independent Sector President and CEO Diana Aviv led panelists in a discussion on embodying a vision, living one's values and collaborating with others to achieve a shared agenda.
Ashoka founder Bill Drayton highlighted the new model of leadership, where leaders do not simply give directives, but create architectures for teams to achieve a collective vision. In this new framework, everyone is a leader, every sector is interconnected and our ethics and behavior must be guided by cognitive empathy. Drayton also underscored the importance of understanding history in order to make the best choices.
Hawai'i Community Foundation President and CEO Kelvin Taketa and Friends-International Executive Director Sebastien Marot both spoke to the importance of ethics in any leadership style. "Great leaders exercise influence, not authority," Taketa said. "It's harder to be an unethical leader in that context." Marot added, "Big leaders become rockstars and rockstars tend to do what they want without question. Leaders must build systems for feedback, and empower their employees to feel comfortable providing that feedback." Both spoke to their quiet leadership styles and the importance of leading from behind. Taketa compared the most effective leader to the person "sitting at the back of the boat, not the front, steering with a with a deft hand, setting the course."
A powerful presence on the panel was Rafiatu Lawal, National Chairperson of the Campaign for Female Education and one of 11 children in her family, who described herself as a natural leader, despite not necessarily being taught or told to lead. Lawal underscored perhaps the strongest theme of the discussion: Leading authentically is about being true to your passion and vision. As Drayton said in his closing remark: There cannot be a difference between your vision and who you are. To build trust and be an effective leader you must be truly married to  your ideas, no matter how 'unreasonable' they might seem.