Recap, Day One: Communities, Hearts and Ambition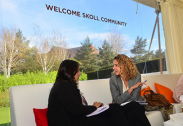 Recap, Day One: Communities, Hearts and Ambition
April 10, 2014 | 3610 views
Day One of the Skoll World Forum kicked off with near-boundless energy all over the Saïd Business School here in Oxford, UK. Bright sunshine showered our incoming delegates and speakers; from the very start, we witnessed both reunions of old friends and colleagues, as well as new introductions being made on the spot in the hallways and gardens. That's probably one of the best parts about attending the Forum in person: even if you're brand-new, you're automatically family.
Whether it was a session about global girls' education, dissecting social impact bonds, thinking about the gift economy and transformative scale, or our hearts bursting open during the opening plenary, there wasn't a dull moment. (Is there ever at #SkollWF?) Here are some of the highlights from our experiences:
One of the most important themes that has emerged in many of the sessions is about community-driven solutions. It seems that the delegates and speakers alike recognize the futility of imposing solutions from the outside looking in, which demonstrates the radical shift in how social change has been approached for the last several hundred years. No longer a "we know what's best for you" proposition, Skoll delegates understand the critical need to support communities making their own innovative change.
That said, it's also clear that strategies and tactics from other sectors– particularly tech and finance– are useful for providing theories of change for the world's problems. Social impact bonds, designing for impact, and using technology to ensure indigenous rights all showed how the cross-pollination of ideas across traditionally for- and non-profit sectors is key to successful social entrepreneurship.
We could go on and on about the opening plenary– we laughed, we cried. You can watch it in full here, but some of our favorite moments were:

Jeff Skoll announcing that Participant Media will be making a documentary feature film about Malala Yousafzai.
Mindy Lubber: "Human ambition and audacity is what is needed to change the world." Yes!
Richard Branson sharing the origin story of Virgin: "Frustration is the key driver behind entrepreneurship and innovation." We've known that feeling.
Sir Ronald Cohen's quote of the night: "Let us bring the invisible heart of markets to those the invisible hand of markets has left behind."

Finally, new secret delegate Jumperin Welliboots got around! Be sure to follow his adventures at the Forum on Twitter.
See you tomorrow for Day Two's recap! Be sure to follow along for up-to-the-minute news, quotes and more on Twitter (you can follow our handle, @skollworldforum, or the hashtag, #SkollWF), and tune into the live stream of many of our sessions.