Recap: Conversation with Amazonian Indigenous Chiefs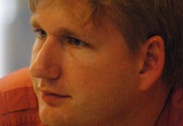 Recap: Conversation with Amazonian Indigenous Chiefs
April 10, 2014 | 5311 views
Wednesday's Conversation with Amazonian Indigenous Chiefs highlighted the roles technology and collaborative strategies play in helping remote indigenous communities generate income; map, demarcate and protect their land; organize for women's rights; keep oral traditions alive; build schools and provide health care to their communities. While the people represented in today's conversation are located in remote parts of the Amazon, community leaders are able to build strong ties with partners around the world to develop innovative solutions that generate much-needed resources.
In Brasil, the Yawanawa have partnered with Aveda to supply the company with the bright orange-red pigment traditionally used as face and body paint. Chief Tashka Yawanawa described the partnership as an important source of income for his community, and has relied on technology to maintain relationships with Aveda and other far-flung partners. Rosi Araujo helped build bicultural schools for her community, the Kiriri, which teach in Portuguese as well as their indigenous language. The development of her first school attracted attracted the attention of the Brasilian government, who soon visited and funded the school. This recognition unified the Kiriri community, catalyzing advocacy efforts with other regional communities in solidarity with the Kiriri's quest for human rights.
While there are still challenges faced by indigenous people in the Amazon, it is clear that they hold the traditional knowledge that is so critical as global communities work together to develop strategies around climate change, access to water and land protection in emerging environmental markets.