Recap: Building Movement Through Digital Storytelling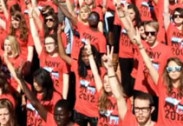 Recap: Building Movement Through Digital Storytelling
April 10, 2014 | 5612 views
"Boring is a sin," said Ben Keesey of Invisible Children, thereby kicking off a lively panel entitled  "Campaign Models: Driving Your Audience to Engage." Moderated by Elizabeth Gore of the United Nations Foundation, this panel aimed to highlight best practice within the field of global movements.
Panelists included campaign veterans such as Kathy Calvin (United Nations Foundation), Ben Keesey (Invisible Children), Ido Leffler (Yes to Inc.), Gabrielle Fitzgerald (Bill and Melinda Gates Foundation,), and Christopher Gebhardt (Participant Media.)
The main takeaway for me is that it's becoming more common for industries to join forces around social causes. Multinationals, brands, nonprofits, politicians and creatives are collaborating, and breaking down silos, fuelled by the emergence of new digital platforms and compelling multimedia content. In their pursuit to attract new customers, donors, and advocates, they are looking to each other for solutions. From Kony 2012 to Participant Media's award winning films An Inconvenient Truth, The Help, Syriana and The Kite Runner.
Best practice
The following campaigns were highlighted as best practice, and applauded for their hybrid approach, mixing strong storytelling, digital media, multimedia and new narratives.
What makes for a successful campaign?
The panelists also took questions from the floor, i.e. how do you build an online movement? Below are some of their ideas:
Several multinationals and brands want to drive social impact. They often have major online platforms and audiences. Leverage their networks, platforms and audiences.
Remember the grassroots movement – don't just think digitally. Surprisingly, it was not the much-hyped Kony-video that triggered the movement. Before the launch of the viral video, Invisible Children had spent years building the grassroots movement; visiting high-schools, sleeping on couches in university cities. This, in return, made it easier to disseminate the video.
All you need is a single, powerful story (think of the Kony video, which spotlights Jacab Acaye, a Ugandan child soldier.)
Emphasize that it's doable and how individuals can take part. As an example, see Invisible Children's video Stand for Nothing.
You can't plan it all – share failures with partners and fans.
Engage credible spokespeople (as an example, the Nothing But Nets campaign engaged various male leaders.)
Raise money, don't just spend (UN Foundation highlighted a campaign, which raised 50 US Dollars; with limited seed money)
Engage politicians and policy makers. Clicktivism is great but don't lose sight of the end goal: change! As an example, the Kony campaign caught the attention of Obama.
Not all videos have to be produced in the US; develop content that resonates with local audiences (i.e. Participant Media spotlighted a project in Bollywood, which aims to engage local directors)
Generate data before the campaign launch. This will make it easier to evaluate the impact (as an example, the United Against Malaria campaign didn't have enough data to document the success of the impact)
Impact, impact, impact. Measure impact – not just press clippings.
Identify a goal: As an example, Invisible Children convinced more than 8000 young people to sleep outside in the freezing cold to generate awareness. However, the campaign didn't engage policymakers to the extent that they'd like.