Recap: The 450 Million Farmer Opportunity: Large-Scale Change through Smallholder Finance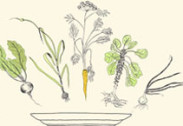 Recap: The 450 Million Farmer Opportunity: Large-Scale Change through Smallholder Finance
April 10, 2014 | 4719 views
Can investors, global development institutions, NGOs and companies effectively deploy resources to empower smallholder farmers? The answer is yes, but it will require strong collaboration, according to thought leaders and investors in the space who participated in today's 450 Million Farmer Opportunity panel: Initiative for Smallholder Finance. Panelists included Director Thomas Carroll, Root Capital Founder and CEO Willy Foote, Yara International Sr. VP Sean De Cleene, IFC's Head of Global Agriculture and Food Securtiy Program Laura Mecagni and Triodos Sustainable Trade Fund Manager Michaël van den Berg.
"Partnerships are critical in value chain finance," Foote stated. "The chain is only as strong as its weakest link." Foote continued to describe the ideal model for a high-impact value chain as a complex, even "messy," collaboration that involves players across a wide spectrum of sectors and industries. "Going forward, we must move beyond comfortable, low-impact partnerships."
Another theme of the session was the importance of pairing capital investment with technical assistance to improve financial literacy and other skills that would enable smallholder farmers to enter — and sustain access to — markets beyond initial investments. Capacity building strategies empower local farming communities to set their own agenda, calling on international companies as supporters rather than catalysts. De Cleene described a shift to leadership coming out of Ethiopia where local communities, rather than outside institutions, are developing dynamic solutions to empower their farmers.
Find out more about the 450 Million Farmer Opportunity.